Hobson, Cecil James (1874-1918; British)
St Elizabeth
Watercolour on paper, c.40.64 x 24.13 cm
Purchased, 1901; de-accessioned and sold at auction, 1941
Unidentified; present location unknown
The 1905 NGV catalogue notes that was one of the works selected by the Royal Academy in 1901 (for list, see Watercolours – Introduction).
Little appears to be known about the artist, who was elected a member of the Royal Institute of Painters in Water-Colours in 1901. Extant examples look vapid, at least in reproduction.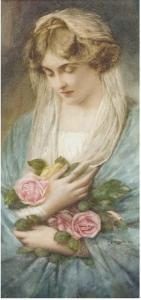 [comparative watercolour: In full bloom 1909 (auctioned 2003)]
Refs.
AR 1901, p.23; SB, following p.546, no.105, also noting the de-accession and auction, 9 Oct.1941; NGV 1905, p.77 (II.Stawell Gallery, no.164: size given as 9½ x 16 inches) [£35] 
For the artist, not listed in either Bénézit or AKL, see Mallalieu (1976), p.135 (but indicating the artist's date of death as 1915), and http://www.racollection.org.uk/ixbin/indexplus?_IXACTION_=file&_IXFILE_=templates/full/person.html&_IXTRAIL_=&person=16610 (reference to correspondence held in the RA archive, listing Hobson as a miniaturist). For reproductions of comparative examples, see http://www.centuryofdesign.com/pictures/watercolours/cj-hobson.html  (Summer, a watercolour of c.1900); and http://www.arcadja.com/auctions/en/hobson_cecil_james/artist/456115/ (work reproduced above, dated 1909, measuring 54 x 26 cm; auctioned by Christie's, London, 3 July 2003, lot 28)