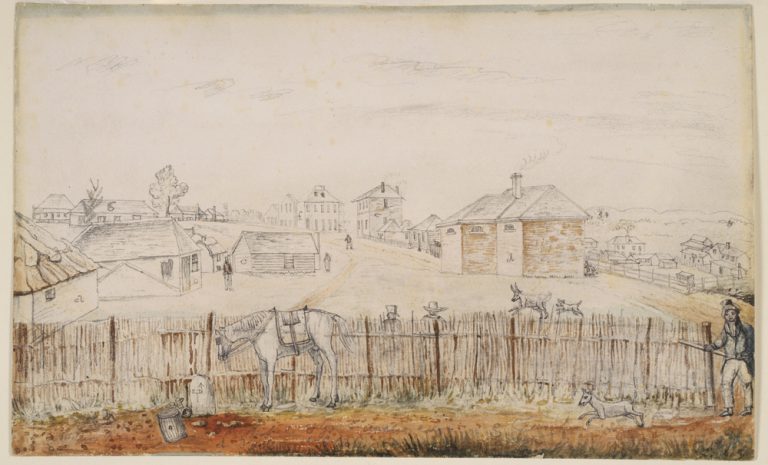 Hoddle, Robert (1794-1881; English/ Australian)
Melbourne – Port Phillip – 1840 from Surveyor General's Yard (c.1840)
Watercolour and pencil, 19.3 x 32.1 cm
Purchased, 1893
State Library of Victoria (H258)
One of four historic sketches by Hoddle, Victorian Surveyor-General from 1837, and catalogued here in the sequence listed in the NGV's stock-book, noting that they were bought for £20 from J.Shillinglaw. It is difficult to decide whether they should be categorized as watercolours or coloured drawings.
In the present sketch, the buildings depicted are numbered and identified, in inscriptions faintly visible at the lower margin, as follows:
(a) Soldiers Barracks [at far left]; (b) Guard Room (?); (c) Hospital; (d) Jail [the prominent masonry building right of centre]; (e) Govt Auction; (f) Club; (g) Church; (h) Inn (?).
Refs.
Not listed in AR; SB, p.434 (13 Aug.1893, no.1 of 4: details as above); NGV 1894, p.116 (V.Buvelot Gallery, 3rd bay, no.56); NGV 1905, V.iii.13 
The SLV's online catalogue entry provides transcription of inscriptions as shown here; see also Downer & Phipps Victorian Vision (1985), pp.8 & 12, and cat.no.118