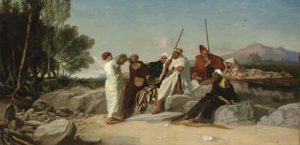 Hodgson, John Evan (1831-95; English)
Arab Prisoners 1870
Oil on canvas, 94 x 185.7 cm
Purchased, 1871 (advice of Alfred Thomson); de-accessioned after 1943
Present location unknown; last noted at auction in London,  2006 
[photo: work as auctioned in London in 2006]
This canvas, exhibited at the Royal Academy in 1870, was listed as hanging in the McArthur Gallery in NGV 1894, and then in NGV 1905 as on loan to an un-named regional gallery. In 1908, according to a note in the NGV's stock-book, it was lent to the Free Library in the Victorian town of Colac. It was still listed as in the NGV in 1943, but was obviously de-accessioned from the Melbourne collection later.
In 1978, it was included in an Orientalist exhibition at the Fine Art Society, London, presumably lent from a private collection; the catalogue entry noted the NGV provenance. Then, in 2006, it turned up at auction with Christie's, London, where it was knocked down for £18,000. Christie's reproduced the work (as shown here), again noted its NGV provenance, and cited the 1978 exhibition.
For the artist, see linked entry.
Refs.
AR 1870A: as acq.1871 (advice of A.Thomson); SB, p.521 (list of loans: noting 1908 loan to Colac); NGV 1875, p.19; NGV 1894, p.74 (IV.McArthur Gallery, no.14); NGV 1905, p.162 (IX.Pictures on loan to country galleries) [£472/10] 
Cf. NGV 1943, cat.293; see also Eastern Encounters: Orientalist Painters of the nineteenth century, London: Fine Art Society, 1978 (exh.cat.), cat.110 (with a colour photo; as measuring 92 x 188 cm; noting the 1870 RA exhibition and the NGV provenance, suggesting that it must have been de-accessioned in about 1940); and  http://www.christies.com/lotfinder/lot/john-evan-hodgson-arab-prisoners-4737148-details.aspx?intObjectID=4737148: Christie's sale 7298, London, 14 June 2006, lot 43: illustration and details as shown here