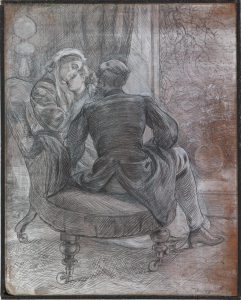 Houghton, Arthur Boyd (1836-75; English)
Preparatory woodblock for Untitled (Mother, child and father seated on couch)
Pencil and gouache on wood, 13.0 x 10.5 x 2.4 cm
Purchased, 1897 (advice of Joseph Pennell)
National Gallery of Victoria (27-2)
The artist was best known for his wood engravings, of which the NGV holds several impressions, acquired in the 1950s. He was also a well-regarded painter; examples are in the Tate and other British collections.
Refs.
AR 1896, p.24; NGV 1905, p.58 (II.Stawell Gallery, no.81) [£11/13] 
For general information on the artist and his work, see AKL 75 (2010), pp.96-97, Bénézit 7, p.331, http://en.wikipedia.org/wiki/Arthur_Boyd_Houghton and http://www.tate.org.uk/art/artists/arthur-boyd-houghton-278. For the wood engravings in the NGV (with reproductions), see https://www.ngv.vic.gov.au/explore/collection/artist/4809/F