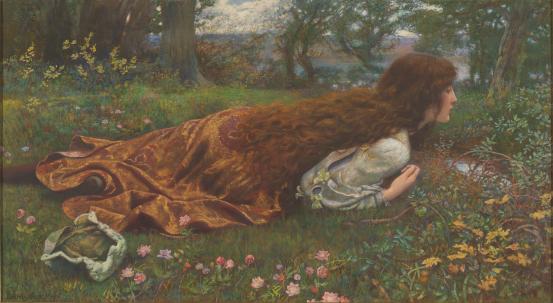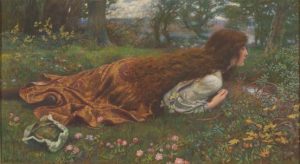 Hughes, Edward Robert (1851-1914; English)
The Princess out of School (c.1901)
Gouache and watercolour with some scratching out, on paper, 52.0 x 95.3 cm (sheet)
Purchased, 1901
National Gallery of Victoria (103-2)
This watercolour, one of the most significant of the group recommended by the RA in 1901 (for details, see Watercolours – Introduction), was bought for the substantial sum of £157/10.
A finely-crafted work, it revisits Pre-Raphaelite themes in a delicate fin-de-siècle vein, and was accompanied at the summer 1901 RWS exhibition by a quote from Keats' poem Endymion (as noted by Benson 2015).
The artist was the nephew of Arthur Hughes (1832-1915), and studio assistant to the ageing William Holman Hunt (1827-1910), achieving fame in his own right for works such as the 1912 watercolour Night with her Train of Stars (Birmingham Museum and Art Gallery). A retrospective of his work was mounted by the Birmingham Museum in 2015.
Refs.
AR 1901, p.23; NGV 1905, p.77 (II.Stawell Gallery, no.165) [£157/10] 
This work was included in the recent NGV exhibition Medieval Moderns: The Pre-Raphaelite Brotherhood (11 April – 12 July 2015); for details and reproductions, see the catalogue, edited by Laurie Benson, (NGV, 2015) pp.38 (Benson, as cited), 109-11 (comments on the work's original frame, by John Payne) and 121 (catalogue entry). See also http://www.ngv.vic.gov.au/__data/assets/pdf_file/0009/527616/BW_ILL_CHECKLIST.pdf (checklist of NGV exhibition "British Watercolours 1760-1900," 2011-12) 
For the artist, see Bénézit7, pp.411-12; Mallalieu (1976), p.140; and http://en.wikipedia.org/wiki/Edward_Robert_Hughes; AKL 75 (2012), p.396, mentions him only in passing as the nephew of Arthur Hughes. For Night with her Train of Stars, see http://www.bmagic.org.uk/objects/1915P100; and for the 2015 exhibition, see http://www.birminghammail.co.uk/whats-on/event/enchanted-dreams-the-pre-raphaelite-art-of-edward-robert-hughes/