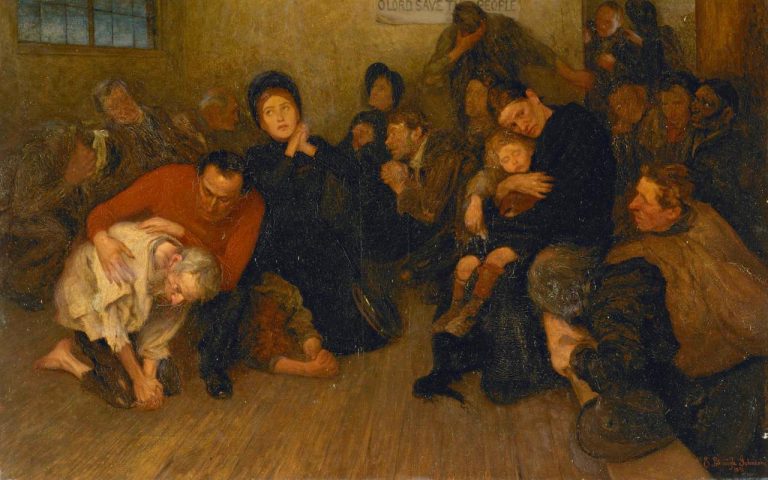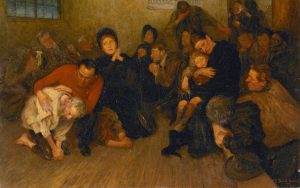 Johnson, Ernest Borough (1866-1949; English)
A Salvation Army Shelter 1891
Oil on canvas, 61.6 x 97.0 cm
Purchased, 1892 (advice of Hubert von Herkomer)
National Gallery of Victoria (p.399.2-1)
Johnson, a portraitist and genre painter, was an alumnus of Herkomer's Hertfordshire art school, and painted several portraits of his teacher.
According to the 1905 NGV catalogue, this image of the down and out in late Victorian Britain was purchased from an exhibition of the work of Herkomer and his students held in London in 1892. NGV 1894 included the Biblical quote: "Come unto Me, all ye that labour and are heavy laden, and I will give you rest" (Matthew 2.28).
Refs.                    
AR 1892, p.23; NGV 1894, p.19 (I.La Trobe Gallery, no.20); NGV 1905, p.22 (I.La Trobe Gallery, no.39) [£262/10]

For the artist, see Bénézit 2, p.889 (listing the artist as Borough-Johnson) and AKL 78 (2013), p.187 (both citing the present work). AKL also cites a 1983 Watford exhibition of the work of Herkomer and his students. For Johnson's 1892 portrait of Herkomer, see David Saywell & Jacob Simon, Complete Illustrated Catalogue: National Portrait Gallery, London: NPG/Unicorn Press, 2004, p.298, and http://www.bbc.co.uk/arts/yourpaintings/artists/ernest-borough-johnson (also including reproductions of other portraits by Johnson of both Herkomer and his wife Lulu)