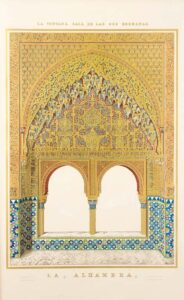 Jones, Owen (1809-74; Welsh), & Goury, Jules (1803-34; French)
Plans, elevations, sections and details of the Alhambra… (2 vols., London: Owen Jones, 1842-45; with some 100 lithographed plates)
Purchased 1858
State Library of Victoria [RARE SEF 728.81 J72]
This lavish, large-scale publication documents the decoration of the famous palace/citadel in Granada, dating mostly from the reigns of Islamic rulers Yusuf I (1333-53) and Muhammed V (1353-91).
Jones and Goury began their studies of the palace complex in 1834, but their work was interrupted when Goury died suddenly from cholera; Jones returned to Granada to complete his studies of the site in 1837. The meticulously-produced chromo-lithographic plates are based on both architects' sketches and measurements.
Jones (sometimes nick-named "Alhambra Jones") later contributed to the popularization of Islamic ornament, at the Great Exhibition and then in the "Alhambra Court" at the reconstructed Crystal Palace in Sydenham (1854), which in turn inspired several decorative projects elsewhere: see now Braga (2017), as cited below.
[photo: typical illustration (from another copy)]
Refs.
MPL 1857, III.ii [1858], p.5; MPL 1861, p.228
For details, see SLV catalogue (not reproduced). Other copies are reproduced online; for the copy from which the illustration reproduced here is drawn, see https://www.christies.com/en/lot/lot-3841049 (copy sold in 2001 for GBP6,815).
For further details, see Kathryn Ferry, "Printing the Alhambra: Owen Jones and Chromolithography," Architectural History vol.46 (2003), pp.175-88; and Ariane Varela Braga, "Owen Jones' Alhambra Court in the Crystal Palace of Sydenham," in Francine Giese & A.V.Braga (eds.), A Fashionable Style: Carl von Diebitsch und das maurische revival, Peter Lang Verlag, 2017, pp.71-83 (both articles available online, each with further references)