Kaiser, Johan Wilhelm (1813-1900; Dutch), after Pieneman, Nicolaas (1809-60; Dutch)
Willem de Derde, Koning der Nederlander, Groot Hertog van Luxemburg
Mezzotint
Presented by the king, by 1870
Present location unknown
William III (1817-90) was Dutch king from 1849 until his death. Apparently a very large, loud man, he reportedly had a tempestuous relationship with his first wife, Sophie, who died in 1877; their three sons also predeceased him. In 1879, he married Emma of Waldeck, his junior by over 40 years, who appears to have tamed him somewhat. Their daughter Wilhelmina succeeded him in 1890, reigning (after Emma's regency to 1898) as Queen of the Netherlands until her death in 1948.
Kaiser, an artist and museum director, was in charge of the Rikjsmuseum from 1871 to 1883, and made engravings of various works held there by Rembrandt and others. This engraving was awarded a gold medal in 1852.
Pieneman, a friend of William II (Dutch king 1840-49), painted various members of the Dutch royal family; his oil portrait of William III (1856) is in the Riksmuseum.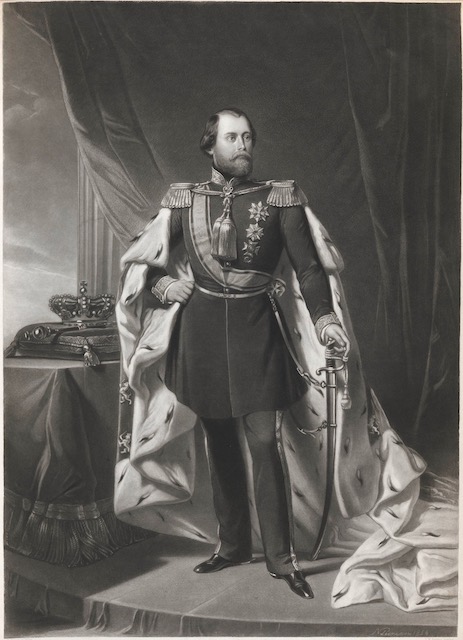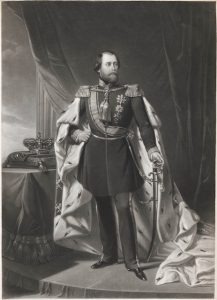 [comparative photo: impression in the British Royal Collection]
Refs.
AR 1870-71, p.34: Engravings (framed): artist/s not named; NGV 1894, p.104 (V.Buvelot Gallery, 1st bay, no.78) 
For William III, see e.g. https://en.wikipedia.org/wiki/William_III_of_the_Netherlands
For the impression reproduced here, see https://www.rct.uk/collection/611844/willem-de-derde-koning-der-nederlanden-groot-hertog-van-luxemburg-enz-enz-enz. For Kaiser, see Bénézit 7, p.1039, and AKL 79 (2013), pp.128-29 (mentioning the gold medal award); see also https://nl.wikipedia.org/wiki/Johann_Wilhelm_Kaiser. For Pieneman, see Bénézit 10, p.1393; AKL 95 (2017), pp.427-28; and https://en.wikipedia.org/wiki/Nicolaas_Pieneman. For his portrait of William II, see https://en.wikipedia.org/wiki/Nicolaas_Pieneman#/media/File:Willem_III_(1817-90),_koning_der_Nederlanden,_Nicolaas_Pieneman,_1856_-_Rijksmuseum.jpg