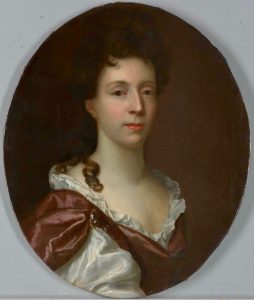 Kneller, Godfrey (1646-1723; German/British)
Portrait of a Lady (c.1680)
Oil on canvas, 59.5 x 49.0 cm (oval)
Presented by Robert Litton, 1886
National Gallery of Victoria (p.311.7-1)
This picture was first described, in the NGV's annual report for 1886 and early catalogues, as the work of an unknown artist, and later listed as an anonymous 18th-century British work (NGV catalogues 1961/1967/1973).
Tomory & Gaston (1989) re-assessed it as a product of the studio of Kneller, a noted portraitist during the Restoration and early Augustan eras. This view was subsequently accepted by Ursula Hoff in her revised 1995 catalogue of NGV paintings "before 1800." Hoff observes that the canvas has been cut down from a rectangular format, which may account for some of the indecision about its authorship.
The work is now regarded by the NGV as an autograph work by Kneller.
Refs.
AR 1886, p.27; NGV 1894, p.123 (V.Buvelot Gallery, 7th bay, no.9); NGV 1905, p.142 (V.Buvelot Gallery, 6th bay, no.15) 
See Tomory & Gaston (1989), cat.74; and Hoff (1995), p.180 ("Studio of Kneller"; providing details and citing earlier NGV catalogues as noted above)

For Kneller, see also Bénézit 7, pp.1356-58 and AKL 81 (2014), pp.4-5