Laer, Pieter van, also known as Bamboccio (1599-c.1642?; Dutch)
Study of a Male Figure
Red chalk, c. 30.5 x 28 cm
Presented by Eliezer Montefiore, 1869
Unidentified; present location unknown
Like the other Old Master drawings donated by Montefiore, this example no longer seems to be in the Melbourne collection, although other works by van Laer, acquired in the 1920s, are still in the NGV (example reproduced below).
The artist, born in Haarlem, worked in Rome from c.1625-35, heading a group of painters, many of them also Dutch and French expatriates, known as Bamboccianti (bamboccio translates as 'big baby,' perhaps referring to van Laer's appearance?). Their style and everyday imagery developed on the genre works of Caravaggio and his immediate followers in early 17th-century Rome.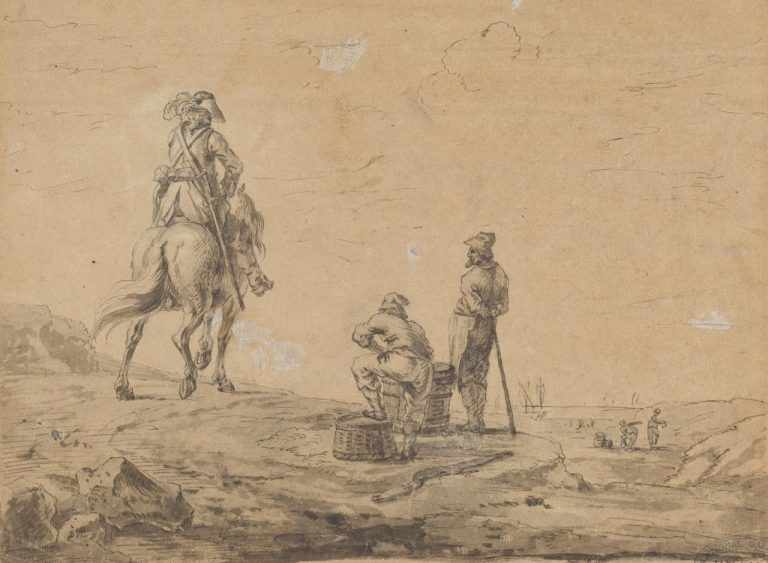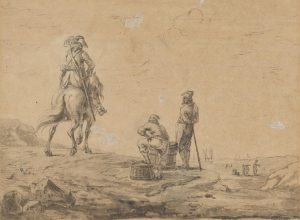 [comparative photo: Untitled drawing by Bamboccio (NGV, Felton Bequest 1923)]
Refs.
NGV 1894, p.108 (V.Buvelot Gallery, 2nd bay, no.33: as measuring 12 x 11 inches); NGV 1905, p.122 (V.Buvelot Gallery, 2nd bay, no.27) 
For the artist, see Bénézit 8, pp.238-39 (dates as shown above); AKL 82 (2014), pp.463-64 (indicating his date of death as somewhere between 1641 and 1654); and http://en.wikipedia.org/wiki/Pieter_van_Laer (citing, among other references, Francis Haskell, Patrons and Painters: Art and Society in Baroque Italy, Yale UP, 1980, ch.8)
For the drawing reproduced above (NGV 1278.862-3), see https://www.ngv.vic.gov.au/explore/collection/work/33015/; and for the other works still in the NGV, see https://www.ngv.vic.gov.au/explore/collection/artist/5195/