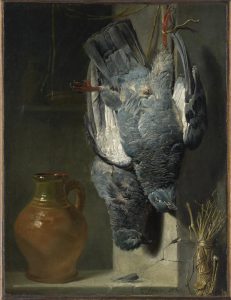 Lance, George (1802-64; English)
Still Life 1830
Oil on canvas, 46.5 x 35.5 cm
Purchased, 1883
National Gallery of Victoria (p.308.11-1)
Wood describes Lance as one of "the two greatest exponents of still-life in the Victorian period," the other being his pupil William Duffield. Lance specialized in meticulous, traditional still lives like this. NGV 1894 notes several examples then in the London National Gallery (now in the Tate).
This early work (the artist first showed at the Royal Academy in 1828) is quite restrained, in the tradition of the Dutch Golden Age still-life painters, whom Lance admired.
Refs.
AR 1883, p.33; NGV 1894, p.19 (I.La Trobe Gallery, no.22); NGV 1905, p.16 (I.La Trobe Gallery, no.26) [£60]
For Lance, see Wood Victorian Painters (1995), vol.2, pp.88-89 (as cited above); see also AKL 83 (2014), p.62; Bénézit 8, pp.378-79 (noting that Lance was a student of Haydon); and the Tate Gallery's online catalogue