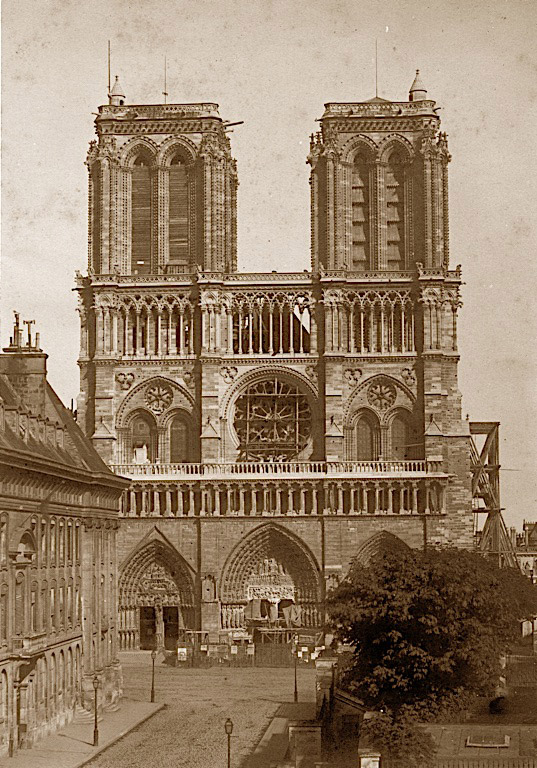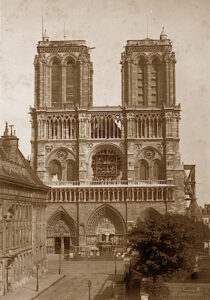 Lassus, Jean-Baptiste (1805-57; French), & Viollet-le-Duc, Eugène (1814-79; French)
Monographie de Notre Dame de Paris, et de la nouvelle sacristie de MM.Lassus et Viollet-le-Duc… (Paris: A.Morel, 1856)
Purchased 1859
Location unknown
This volume, illustrated with engravings, chromo-lithographs, and a set of photographs by Bisson Frères, is listed in MPL 1857 as published in 1856.
This copy no longer appears to extant in the SLV. However, other Bisson photographs of Notre-Dame, acquired separately in 1861, are still in the State Library's Pictures Collection (H87.84/6 and 84/8): see now linked entry on Bisson frères.

Lassus and Viollet-le-Duc oversaw the restoration/rebuilding of Notre-Dame from 1844 onwards.
[reproduction: Bisson frères photo of Notre-Dame façade, c.1856? (copy held in Washington NGA)]
Refs.
MPL 1857, IV.iv [1859], p.60
Another copy is held by the NGA, Canberra (acquired in 1972). For reproductions of the Bisson photos in another copy of this volume in the Getty collection (84.XM.867.6), see http://www.getty.edu/art/collection/objects/60438/bisson-freres-monographie-de-notre-dame-de-paris-et-de-la-nouvelle-sacristie-de-mm-lassus-et-viollet-le-duc-french-about-1853-1857/ (accessed 15 Dec.2020)