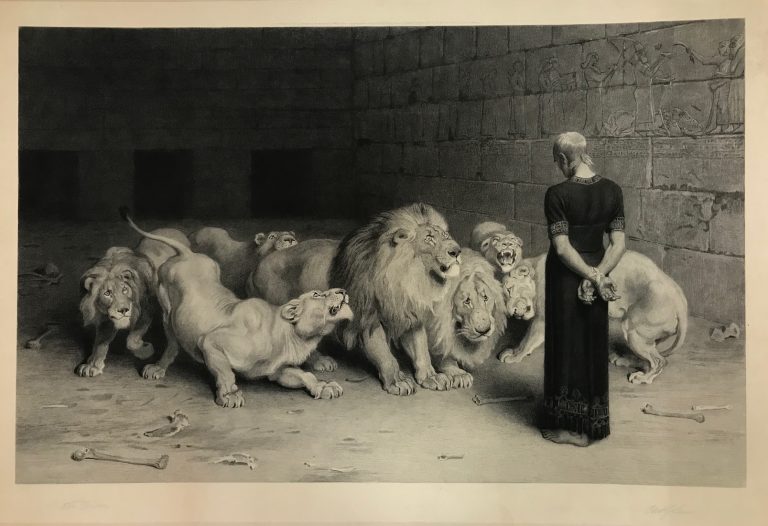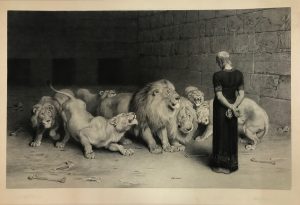 Lewis, Charles G. (1808-80; English), after Rivière, Briton (1840-1920; English)
Daniel in the Lions' Den
Engraving
Donated by William Agnew, 1876
National Gallery of Victoria (p.182.8-1)
One of four engravings after Rivière donated together in 1876 (see artist entry for details); the other three were engraved by Frederick Stacpoole. All four were signed by both the painter and the print-makers.
Rivière's painting, emphasising the varied responses of the lions, was bequeathed to the Walker Art Gallery in Liverpool in 1872.
Refs.
AR 1876, p.43; NGV 1894, p.106 (V.Buvelot Gallery, 2nd bay, no.13: as by Lewis after Rivière) 
The NGV catalogue lists this work as by an unknown engraver (not reproduced); author's ID photo shown here (2019)
For the original painting, see e.g. https://artuk.org/discover/artworks/daniel-in-the-lions-den-97646. For a different, later version by Rivière, in the Manchester Art Gallery (1890; bequeathed in 1937), see e.g. https://commons.wikimedia.org/wiki/File:Briton_Riviere_-_Daniel%27s_Answer_to_the_King_(Manchester_Art_Gallery).jpg (accessed 24 March 2020)