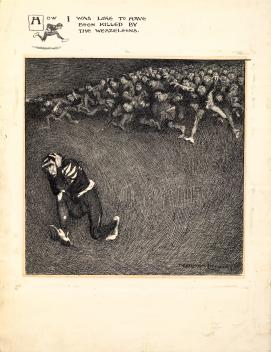 Lindsay, Norman (1879-1969; Australian)
My Ancestors 1903
Pen and ink over pencil on paper, 23.7 x 20.0 cm (image), 32.3 x 25.0 cm (sheet)
Purchased, 1904 (advice of Bernard Hall)
National Gallery of Victoria (193-2)
The first drawing by Norman Lindsay bought for an Australian public collection, this work was chosen after Bernard Hall's initial recommendation, Lindsay's The Scoffers of 1903, was rejected by the gallery Trustees as "too unconventional." That work (called "The Unbelievers", in the NGV's stock-book) shows a group of sylvan creatures. It was subsequently purchased by Hall for his personal collection, and eventually entered the NGV in 1935.
The present drawing, an illustration of some sort (perhaps a fanciful self-portrait?), is inscribed: "How I was like to have been killed by the Weazeleens."
Three years later, Hall persuaded the Trustees to agree to the acquisition of a considerably more controversial early Lindsay drawing, the well-known Pollice verso of 1904 (Felton Bequest, 1907), depicting a scantily-clad pagan procession giving the crucified Christ the "thumbs down" (for detailed comments, see the article by Kirsty Grant cited below). Epitomizing Lindsay's derisory opinion of Australian "wowsers," Pollice verso had caused an outcry when shown in Sydney in 1904. Despite the artist's later claim that it was immediately "consign[ed]… to the Gallery cellars" when it reached Melbourne, it seems to have been on permanent display in the NGV until at least 1918, as Grant points out.
Refs.
AR 1904, p.25; SB, entries following p.546: nos.132 ("The Unbelievers" – noted as purchased and then "withdrawn and amount refunded by Mr Hall 1903") and 193 (My Ancestors, as purchased from the artist, 21 Nov.1904); NGV 1905, p.65 (II.Stawell Gallery, no.100) [£8/8] 
The present work is also reproduced in Kirsty Grant's interesting article on Pollice verso, in the NGV Art Journal, vol.42 (2002), fig.4: see https://www.ngv.vic.gov.au/essay/thumbs-up-or-thumbs-down-the-trials-and-tribulations-of-norman-lindsays-pollice-verso-2/, also the source of the other details and quotes noted here; both Pollice verso and The scoffers are also reproduced, as fig.nos.1 & 3 respectively; the price paid for Pollice verso is noted as 157 guineas and 10 shillings. For Lindsay, see also Bénézit 8, pp.1077-78 and AKL 84 (2015), pp.513-14 (entry by G.Bissell)