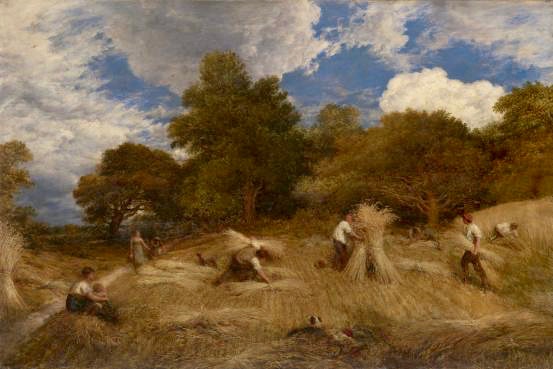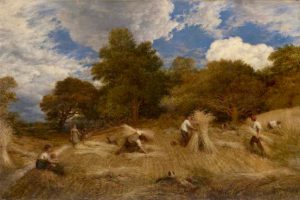 Linnell, John (1792-1882; English)
Wheat (1860)
Oil on canvas, 94.2 x 140.6 cm
Purchased, 1888 (advice of James McCulloch)
National Gallery of Victoria (p.312.8-1)
This canvas, first exhibited at the Royal Academy in 1860, was bought from Agnew's, London.
A noted painter of realist landscapes like this, Linnell is probably best known now for having been a major patron of William Blake. In the early 1820s he commissioned many of the Blake prints and watercolours subsequently acquired for the NGV, notably the sheets illustrating The Book of Job and Dante's Divine Comedy.
Refs.
AR 1888, p.36; NGV 1894, p.6 (I.La Trobe Gallery, no.4); NGV 1905, p.14 (I.La Trobe Gallery, no.23; ill.) [£1,750] 
See Hoff (1995), pp.187-88 (with further references, especially concerning Linnell's patronage of Blake); and Gott 19C (2003), pp.24-25 (Ted Gott)