Lombardi, Giovita (1837-76; Italian)
Hen and Chickens
Marble, size unknown
Purchased, 1884; de-accessioned and sold at auction, 1943
Unidentified; present location unknown
Purchased with the other animal groups by Giovita Lombardi listed here, and, like them, de-accessioned in 1943 and sold for £25 at the 1943 auction of NGV sculpture.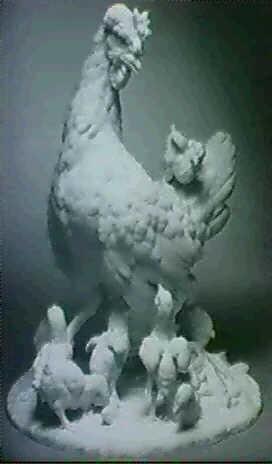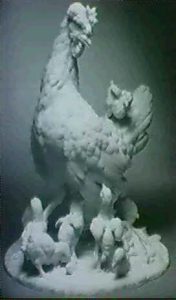 This group was presumably similar (perhaps even identical) to a marble Mother Hen with Chicks,  sold at a 1994 auction in the USA: see  reproduction at right.
Refs.
AR 1884, p.35; SB p.67; NGV 1894, p.132 (VI.Rotunda, no.36: G.Lombardi); NGV 1905, p.106 (IV.Vestibule, no.8: G.Lombardi) [£1000, with * Lombardi (Giovita) Fowls – Cocks Fighting {1884} Loc? [SC], etc.]
For the work auctioned by Sloan's auctioneers, North Bethesda, Maryland, USA, 1 Feb.1994 (as measuring 53.3 x 47 cm), fetching US $3,000, see http://www.artnet.com/artists/giovita-lombardi/past-auction-results (with photo as shown here)