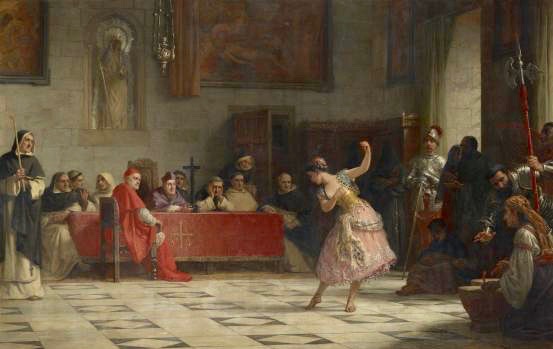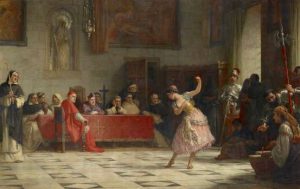 Long, Edwin (1829-91; English)
A Question of Propriety 1870
Oil on canvas, 175.2 x 275.0 cm
Commissioned for the NGV by Alfred Thomson, 1871
National Gallery of Victoria (p.302.15-1)
This canvas, from Long's earlier period (when he focused mainly on Spanish themes), has the distinctly theatrical or proto-cinematic character of many later 19th-century narrative paintings.
But whereas many such works are burdened by the heavy weight of conventional morality, this canvas encouraged the alert contemporary viewer to think more deeply and critically – especially about the problems of repressive authority and moral censorship. The members of the Spanish Inquisition are shown entranced by the dancer whose performance they are to condemn. The extended 1894 NGV catalogue entry (probably written by Bernard Hall) draws parallels with contemporary French and English censorship.
NGV 1905 notes that this painting was a replica of a smaller version shown at the Royal Academy in 1871. The NGV's current online catalogue explains that the story comes from Francisco Pacheco's 1638 Treatise on Painting (dramatized in an 1843 play by Longfellow, The Spanish Student).
Refs.
AR 1870: as acq.1871 (advice of A.Thomson); NGV 1875, p.41; NGV 1894, pp.7-8 (I.La Trobe Gallery, no.6); NGV 1905, p.13 (I.La Trobe Gallery, no.21: ill.) [£630] 
For the idea of a "proto-cinematic" character to 19th century narrative painting, see Anne Hollander, Moving Pictures, Cambridge, Mass. & London: Harvard UP, 1991, esp.ch.12