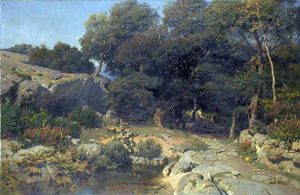 Ludwig, Carl (1839-1901; German)
Chestnut Grove, Valley of the Tessin, Italy (c.1875)
Oil on canvas, 100.7 x 154.6 cm
Purchased, 1889
National Gallery of Victoria (p.316.6-1)
This unassuming landscape was shown at the Centennial International Exhibition held in Melbourne in 1888. The painter, who studied in Munich and taught in Stuttgart and Berlin, apparently specialized in mountain landscapes.
Refs.
AR 1889, p.41; NGV 1894, p.90 (IV.McArthur Gallery, no.52); NGV 1905, p.86 (III.McArthur Gallery, no.15) [£125] 
For the artist, see Bénézit 8, pp.1335-36 and http://www.askart.com/askart/l/carl_julius_ludwig/carl_julius_ludwig.aspx; not listed in AKL