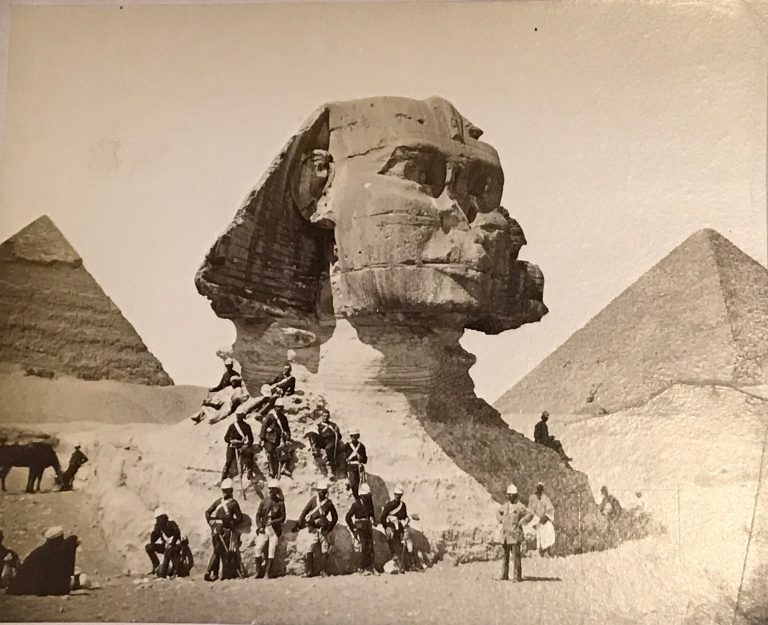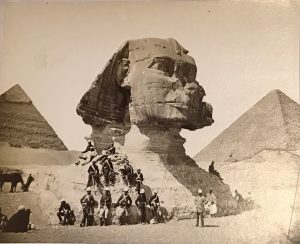 Skeen, William Louis Henry (1847-1903; English), & others 
Pompei {sic} and Paris (1882-83)
Album of photographs, each folio c.48 x 65 cm
Presented by Henry Coathupe Mais, c.1888
State Library of Victoria (H87.137/1-126)
[reproduction: Unknown photographer: Militaria at the base of the Sphinx, Cairo, fol.35]
This is one of several groups of photographs collected by Mais during his travels in 1882-83, and donated to Melbourne in about 1888 (for further details, see linked donor entry).
The majority of photos in this album are by unnamed photographers. The named photographers are: Michele Amodio (c.1820-1913; Italian; worked with his brother Enrico in Naples as Fratelli Amodio); Giacomo Brogi; Francis Frith; Scowen & Co., established in Sri Lanka in the 1870s by Charles T. Scowen (1852-1948; British); W.L.H.Skeen (details above; active in Sri Lanka from the 1860s); and Giorgio Sommer (1834-1914; German; active in Italy from 1856): see references noted below.
The contents are as follows: fols. 1-24: Ceylon (Sri Lanka): including photographs by Skeen, Scowen & Co.; fols.25-38: Egypt; fols.39-70: Paris & Versailles; fols.71ff.: Italy, including photographs by Amodio, Brogi, Frith, and Sommer.
The Italian section is notable for the images by Amodio and Sommers of the ghostly figures preserved by the ash of Vesuvius, amongst the earliest photos documenting the plaster casts first made in the 1860s.
Refs.
Not listed in AR 1888, NGV 1894 or NGV 1905
None of the photos is reproduced in the SLV's catalogue (at present); author's ID photo shown here

For Brogi and Frith, see linked artist entries; for Amodio, see http://www.historyphotography.org/doc/AMODIO_Fanelli.pdf (accessed 8 Oct.2019); for Scowen and Skeen, both active in Sri Lanka in the period, see Hannavy 19C Photography (2008), Vol.II, p.1270 (entry on Skeen by Kathleen Home); and for Sommer, see Browne & Partnow Photographic Artists (1983), p.573, and Hannavy 19C Photography (2008), Vol.II, pp.1310-11 (detailed entry by Silvia Paoli)
For the figures "frozen" by the ash of Vesuvius, see e.g. https://allthatsinteresting.com/bodies-of-pompeii (accessed 8 Oct.2019)