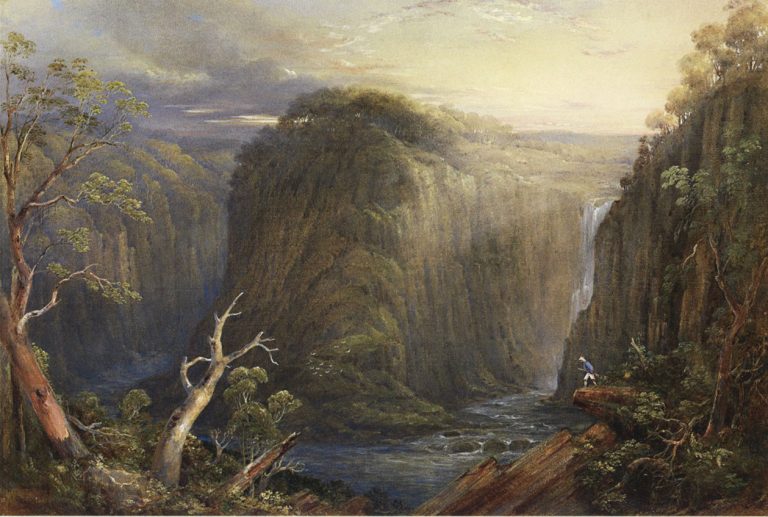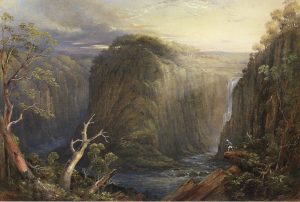 Martens, Conrad (1801-78; English/Australian)
One of the Falls on the Apsley 1873
Watercolour and gouache, 46.0 x 66.4 cm (image), 46.3 x 67.3 (sheet)
Purchased by commission, 1873
National Gallery of Victoria (p.166.131-1)
This meticulously detailed work was one of the first commissions arranged on behalf of the Victorian Gallery (an independent entity since the end of 1869). According to NGV 1905, the commission was arranged by E.L.Montefiore.
The site, in the Northern Tablelands area of New South Wales, receives highly Romantic treatment here, pitting puny man, at lower right, against the grandeur of nature.
A slightly larger, sunnier watercolour of the same site, commissioned from Martens by the Art Gallery of New South Wales the following year, was apparently the first Australian acquisition for the Sydney collection.
Refs.
AR 1873, p.69; NGV 1894, p.49 (II.Stawell Gallery, no.40); NGV 1905, p.50 (II.Stawell Gallery, no.54) [£21] 
See also Bunbury This Wondrous Land (2011), pp.70-71 (detailed catalogue entry by Elizabeth Ellis; with further references)
For Martens, see the ADB biography by Douglas Dundas (1967): http://adb.anu.edu.au/biography/martens-conrad-2434; and Bunbury (2011), as cited above, pp.64-72. For the Sydney work, see http://www.artgallery.nsw.gov.au/collection/works/117/ (reproduced in colour; with further details, including the purchase price of £50)