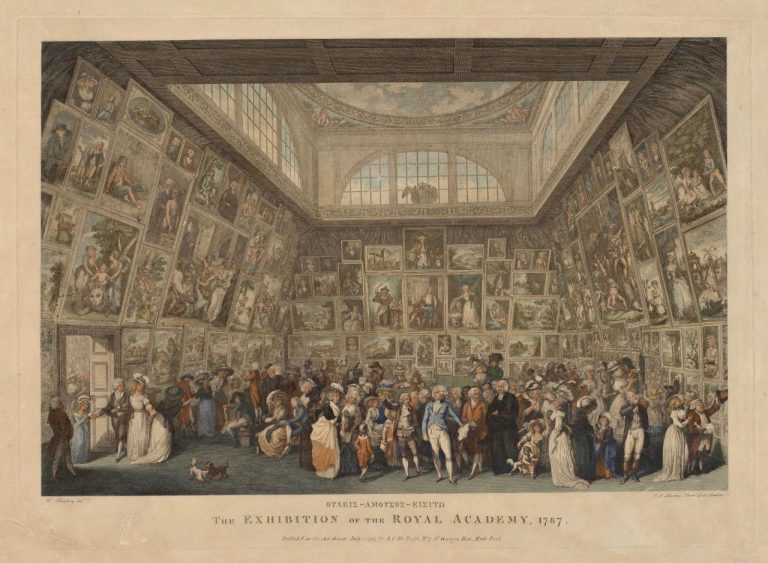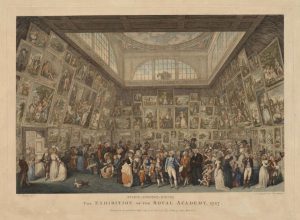 Martini, Pietro Antonio (1739-97; Italian), after Ramberg, Johann Heinrich (1763-1840; German)
The Royal Academy 1787
Hand-coloured engraving
Purchased, 1900 (advice of Bernard Hall)
National Gallery of Victoria (94-2)
As the 1905 NGV catalogue explains, this print documents the arrangement of pictures at the 19th Royal Academy exhibition at Somerset House, during a visit by the Prince Regent (later King George IV), escorted by Sir Joshua Reynolds, in 1787.
The engraver also produced comparable images of the 1788 RA exhibition, and the Louvre Salons of 1785 and 1787. In a detailed study of both 1787 prints, Vicenç Furió (2004) comments on social behaviour at the time, and contrasts the French and English exhibits.
Martini's RA print, published in July 1787, was based on the lively drawing (British Museum) of the assembled throng by Ramberg, who was invited to London by George III, and exhibited at the RA from 1782. Later, Ramberg returned to his native Hanover, where he was appointed court painter in 1792; he also produced a number of notable book illustrations during the latter part of his career.
Refs.
AR 1900, p.29; NGV 1905, p.120 (V.Buvelot Gallery, 2nd bay, no.17; ill.) [£3] 
The NGV catalogue provides details and reproduction as shown above
See now Vicenç Furió, "Seeing Art History: Pietro Antonio Martini's engravings on the Exhibitions of Paris and London in 1787," Locvs Amoenvs 7, 2004, pp.255-70, esp.264ff. (English translation of the Spanish original available online via https://www.academia.edu); Ramberg's drawing is reproduced as fig.7, p.265
For further information on Martini, see Bénézit 9, p.396; and for Ramberg, see Bénézit 11, pp.637-38; AKL 97 (2018), pp.429-30; and http://en.wikipedia.org/wiki/Johann_Heinrich_Ramberg