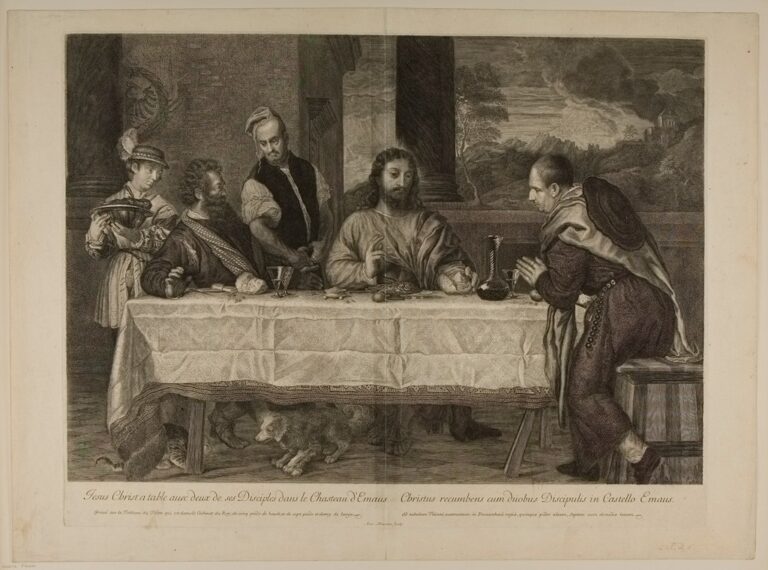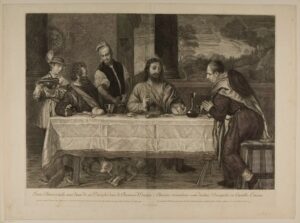 Masson, Antoine (1636-1700), after Titian (1487/90-1576; Italian)
Jesus Christ a table avec deux de ses disciples dans le chasteau d'Emaus [Christ at Emmaus] (1672)
Engraving and etching
Gift of George Collins Levey 1879
National Gallery of Victoria (p.183.14-1)
= Levey gift, cat.15
[photo: Harvard impression]
"Known as the 'tablecloth print,' his [Masson's] masterpiece" (according to the NGV's 1905 catalogue).
Duplessis (1869) notes a payment of 1,500 livres to the engraver in 1672. Melbourne's impression is in good condition, apart from some small circular holes of unknown origin.
Masson, received into the French Academy in 1679, was best known for his engraved portraits.
Refs.
NGV 1894, p.109 (V.Buvelot Gallery, 2nd bay, no.44); NGV 1905, p.122 (V.Buvelot Gallery, 2nd bay, no.32) 
The NGV catalogue lists this as by an unknown engraver (not reproduced). Cf. Suite et Arrangement (1727), p.1; Duplessis Cabinet du roi (1869), p.6, no.3 (noting the payment on 16 June 1672); and for other impressions, see http://catalogue.bnf.fr/ark:/12148/cb42028621q and http://www.harvardartmuseums.org/art/278442 (gift, 1857; reproduced here)

For Masson, see Bénézit 9, p.451; AKL87 (2015), pp.494-95; and also http://en.wikipedia.org/wiki/Antoine_Masson (with references)
For Titian's canvas, acquired by Louis XIV in 1662, see Louvre cat.II (1981), p.246 (Inv.746) and http://www.artbible.info/art/large/811.html.