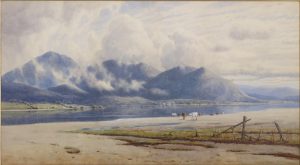 Mather, John (1848-1916; Scottish/Australian)
Morning, Lake Omeo, North Gippsland 1891
Watercolour over pencil, 48.2 x 90.0 cm (image)
Purchased, 1891
National Gallery of Victoria (p.421.2-1)
This was the first work by Mather to be acquired for the NGV (see linked artist entry for further details).
The title noted here is as given in NGV 1894 and 1905.
Refs.
AR 1891, p.24; NGV 1894, p.47 (II.Stawell Gallery, no.23); NGV 1905, p.44 (II.Stawell Gallery, no.29: as bought in Melbourne) [£42]