May, Phil (1864-1903; English)
Dishing his Enemies [Griffith's Policy] 1888
Pen & ink on white paper laid down on card, 31.0 x 24.5 cm
Purchased, 1903 (advice of Bernard Hall)
State Library of Victoria (H30382)
This satirical drawing, published on the front page of The Bulletin, 17 March 1888 (as reproduced below), shows a swagman puzzled by the assorted policies ("No coolies", "University", "No rabbits", "Australia for the Australians", etc.) making up the electoral platform of Samuel Walker Griffith (1845-1920), then premier of Queensland.
Griffith lost the state election, and his seat, in June 1888, but later became Queensland Premier for a second term (1890-1893), and was then appointed Chief Justice of the Supreme Court of Queensland (1893-1903).
He was one of the main authors of the Constitution of Australia (1900); and subsequently became the first Chief Justice of Australia (1903-19). Griffith University is named after him.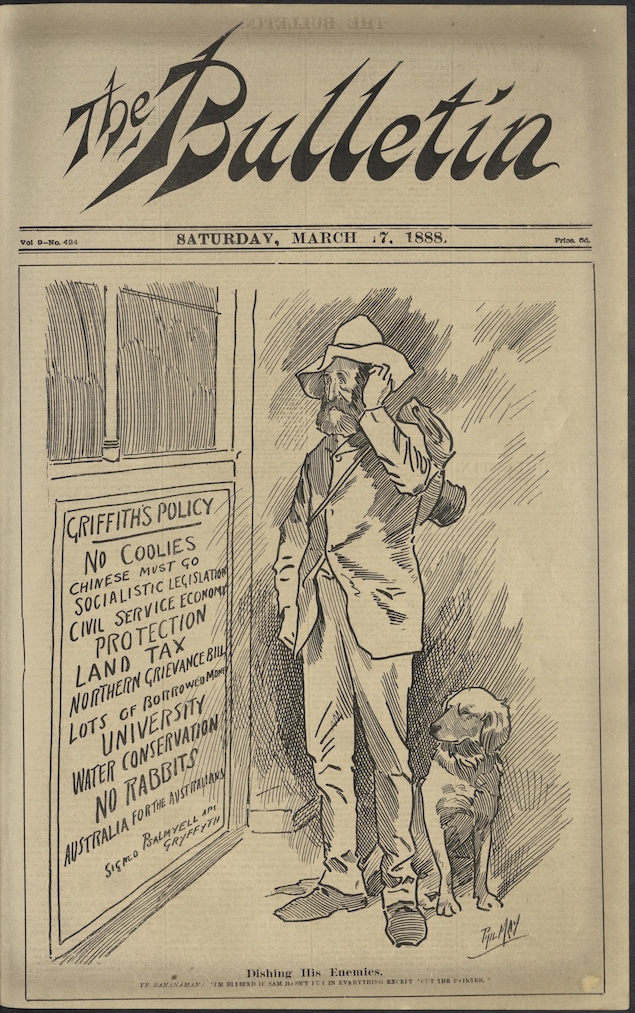 [photo: drawing as published]
Refs.
Not listed in AR 1903 or NGV 1905 
See SLV catalogue (not reproduced). For Griffith, see http://adb.anu.edu.au/biography/griffith-sir-samuel-walker-445 (biography by R.B.Joyce, published in ADB vol.9, 1983)