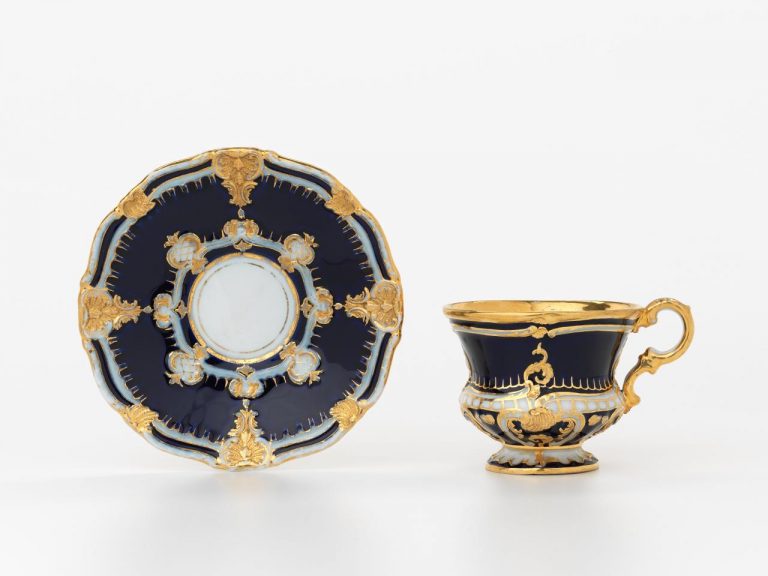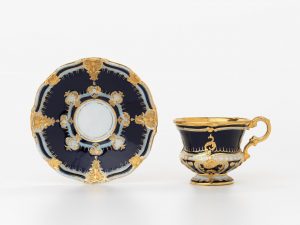 Pre-Felton acquisitions included:
Teabowl and saucer (c.1735). Gift of F.G.Dalgety 1862. NGV 213.a-b-D1M
Cup and saucer (c.1880) & Cup and saucer (c.1870-80). Gift Dr J.C.Adler 1881. NGV 214 and 215.a-b-D1M
Various pieces purchased in 1881. See NGV catalogue under both Meissen and Royal Saxon
[photo: Cup and saucer donated 1881 (NGV 215.a-b-D1M)]
The Royal Saxon porcelain factory, established at Meissen (near Dresden) in 1710 produced tableware and figurines of high quality, especially when it was under the direct patronage of the Electors of Saxony during the 18th century. A remarkable collection is held in the Zwinger Palace, Dresden.
The early teabowl and saucer donated by Dalgety in 1862 are described by the NGV as showing "Old Dresden with landscapes and figures." The other pre-Felton pieces listed date from the 19th century, after ownership was transferred to the State of Saxony.
Other good Meissen pieces entered the NGV after 1904/5, especially a large group of 18th-century examples acquired through the Felton Bequest in 1939.
Refs.
For the teabowl and saucer donated by Dalgety, see https://www.ngv.vic.gov.au/explore/collection/work/16661/. For the purchase of pieces directly from the Royal Saxon Porcelain Factory, at the Melbourne International Exhibition, see AR 1881, p.54; extant pieces are listed in the NGV catalogue under both Meissen and Royal Saxon  
For full details of the Meissen works now in the NGV, some 50 in all, see https://www.ngv.vic.gov.au/explore/collection/artist/12379/ 
For the general history, see e.g. https://en.wikipedia.org/wiki/Meissen_porcelain (accessed 6 April 2020; with further details and references)