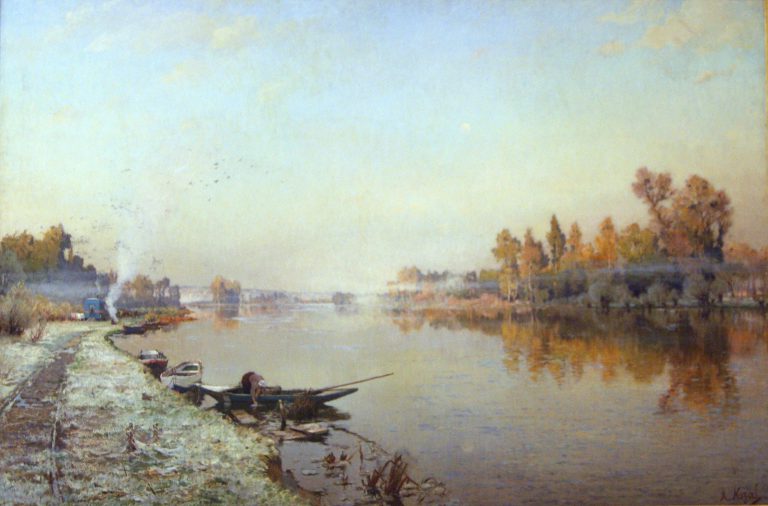 Nozal, Alexandre (1852-1929; French)
The Seine at St Pierre, near Louviers: A morning in October (1891)
Oil on canvas, 202.0 x 300.6 cm
Purchased, 1891 (advice of John Longstaff)
National Gallery of Victoria (p.396.1-1)
One of the gallery's more remarkable late 19th-century acquisitions, this canvas was bought on the recommendation of Australian painter John Longstaff, while studying in Paris.
This study of the early morning atmosphere of the river has a luminous, sketchy character that belies its large scale, and also contrasts markedly with many of the other, darker canvases in the NGV at the time.
Nozal, who has been described as one of several "realist landscape painters on the fringes of Impressionism," debuted at the Salon in 1876. The 1894 NGV catalogue quotes laudatory remarks made by P.G.Hamerton after seeing this painting at the 1891 Salon (where Longstaff saw it): "a remarkably fine and beautiful interpretation of a very difficult effect… The foreground was remarkable for the artist's success in the suggestion of early morning dew, and even of gossamer, that cannot be painted."
Refs.
AR 1891, p.24; NGV 1894, p.30 (I.La Trobe Gallery, no.40); NGV 1905, p.30 (I.La Trobe Gallery, no.55; ill.) [£200] 
The Hamerton quote in NGV 1894 comes from his 1892 book The Present State of the Fine Arts in France (available via Google Books)
For the artist, see also Bénézit 10, pp.470-71 (citing the present work) and AKL93 (2017), p.76 (noting that he was a friend of the writer Guy de Maupassant); for the "fringes of Impressionism" quote (from the catalogue of the Nozal exhibition in Beauvais in 1974), see http://www.stephenongpin.com/NOZAL-Alexandre-DesktopDefault.aspx?tabid=45&tabindex=44&artistid=178506; and for reproductions of other examples of his work, see http://www.artnet.com/artists/alexandre-nozal/past-auction-results and http://www.invaluable.com/artist/nozal-alexandre-mhg9qkzb1o