Parker, John (1839-1915; English)
Miss Hardcastle 1889
Watercolour, c.53.5 x 38 cm
Purchased, 1892; de-accessioned and sold at auction, 1950
Unidentified; present location unknown
Bought from the Anglo-Australian Exhibition, Melbourne, this work was still in the NGV in 1914-15, when it was listed as on loan to the Maryborough and Mildura councils respectively. By 1950, however, it had been identified as surplus to requirements.
The artist was a member of the Royal Society of Painters in Water Colour. His work was evidently quite conventional, to judge from a watercolour portrait of a young woman with a basket of eggs, auctioned in England in 2007 (reproduced below).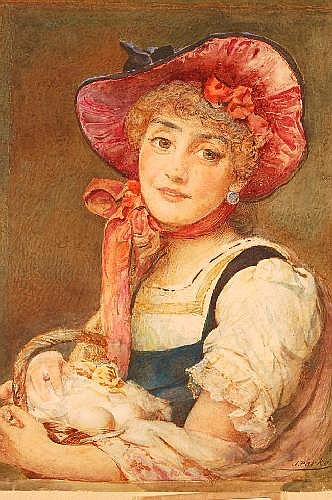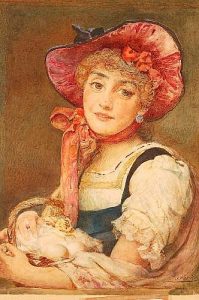 [comparative work: Portrait of a young woman 1887 (auctioned in 2007)]
Refs.
AR 1892, p.23; SB p.434 (with added note re the 1950 auction); NGV 1894, p.45 (II.Stawell Gallery, no.13; size noted as 21 x 15 inches); NGV 1905, p.48 (II.Stawell Gallery, no.47) [£50] 
See NGV Annual Reports for 1914 and 1915 (available online): listed as on loan, as noted above. For the artist, see Bénézit 10, p.913 (listing this work); Mallalieu (1976), p.199; and http://www.christies.com/lotfinder/lot/john-parker-rws-3109460-details.aspx?intObjectID=3109460; cf. http://www.invaluable.com/auction-lot/john-parker-1839-1915-,-watercolour,-portrait-of-18-c-75abk37erx (the work reproduced here, sold by Burstow & Hewett, Battle, UP, 27 June 2007, lot 16; size noted as 13" x 10"; the artist's date of birth is given as 1830)