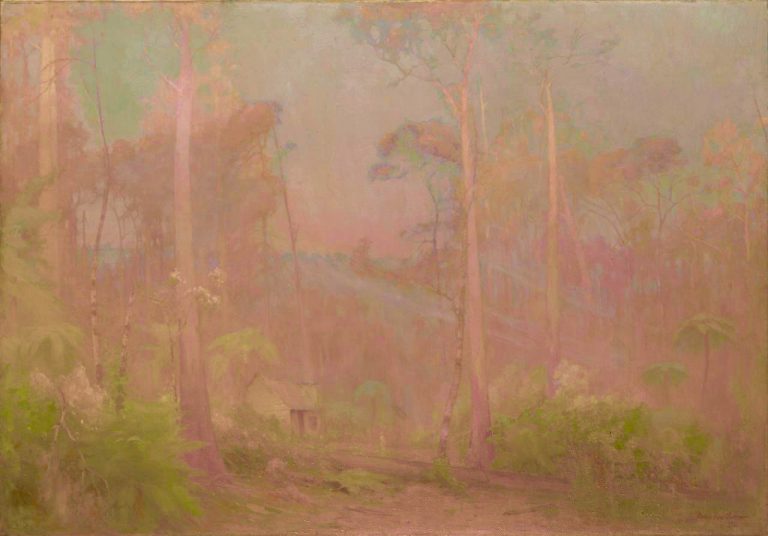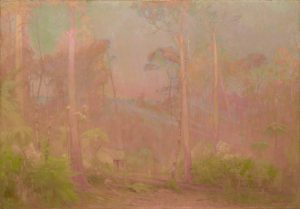 Paterson, John Ford (1851-1912; Scottish/Australian)
Fernshaw: a Bush Symphony 1900
Oil on canvas, 150.0 x 215.0 cm
Purchased, 1900 (advice of Bernard Hall)
National Gallery of Victoria (77-2)           
This large canvas was bought for £200, after being exhibited at the Old Court Studios in Melbourne. The artist spent three years in Melbourne in his early twenties, and then returned from Scotland in 1884. He developed a close relationship with Buvelot, and became a member of the group centred on Tom Roberts, although he tended to paint in a more romantic vein than the other "Heidelberg School" artists.
Lionel Lindsay (in Art in Australia, 1917), quoting Paterson as saying: "'Tis a kind of spirituality o'things I'm after," characterized him essentially as a "dreamer." However, as John McDonald suggested recently, Paterson's art deserves a less simplistic reassessment, as witnessed by this adventurous canvas, painted largely in pink and mauve hues.
Two years after this work was purchased, Paterson was elected president of the Victorian Artists' Society, and was also appointed a Trustee of the NGV/Public Library. Other works by him are in the Art Gallery of New South Wales.
Refs.
AR 1900, p.29; NGV 1905, p.99 (III.McArthur Gallery, no.62) [£200]
For the artist, see http://adb.anu.edu.au/biography/paterson-john-ford-4372 (biography by Marjorie Tipping, published in ADB vol.5, 1974) and McDonald Art of Australia (2008), pp.366ff. (with a good reproduction of Fernshaw; also quoting Lionel Lindsay's Art in Australia article); see also Bénézit 10, p.990 (listing the present work)