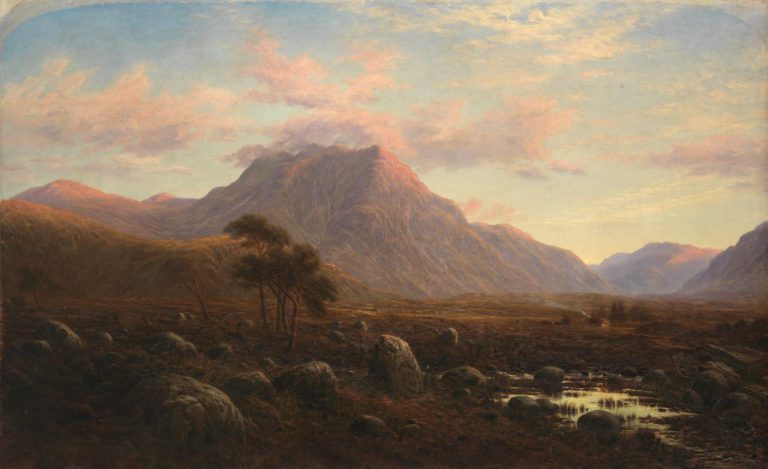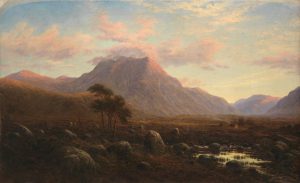 Paton, Waller Hugh (1828-95; Scottish)
Entrance to Glen Etive, from near King's House 1879
Oil on canvas, 86.0 x 140.0 cm
Purchased 1882
National Gallery of Victoria (p.308.9-1)
This canvas was recently restored by the NGV, prior to its inclusion in the  exhibition on the Scottish impact on Australian art before Federation mounted at the Ballarat Art Gallery in 2014.
NGV conservator Sandi Mitchell has written an interesting account of the restoration, which uncovered the inscribed date at lower left. For the artist, see linked entry.
Refs.
AR 1882, p.36; NGV 1894, IV.24; NGV 1905, IX.22 [£200] 
For this work, see Sandi Mitchell, "Conservation: Scottish splendour revealed," Gallery (National Gallery of Victoria Magazine), May/June 2014, pp.64-65, and http://www.theage.com.au/entertainment/art-and-design/work-by-scottish-artist-hugh-paton-has-rich-resonance-for-ngv-restorer-20140331-35u98.html. For the Ballarat exhibition, see the review in http://melbourneartnetwork.com.au/2014/07/14/exhibition-review-for-auld-lang-syne-images-of-scottish-australia-from-first-fleet-to-federation-john-weretka/