Peele, James (1847-1905; English)
Evening Shadows, Otira Gorge, New Zealand 1891
Oil on canvas, c.95.25 x 151.13 cm 
Purchased, 1891; de-accessioned and sold at auction, 1941
Unidentified; present location unknown
This landscape was bought in Melbourne for a substantial sum, but subsequently de-accessioned.
The artist is noted in NGV 1894 as having arrived in Victoria as a child; he was a prolific landscapist, working in both Australia and New Zealand. Many of his works have sold at auction in Australia and New Zealand in recent years, including several different views of Otira Gorge, a dramatic site in the South Island of New Zealand, dated variously from 1881 to 1899.
[comparative illustration: Peele's Otira Gorge 1899, auctioned in Auckland, July 2015]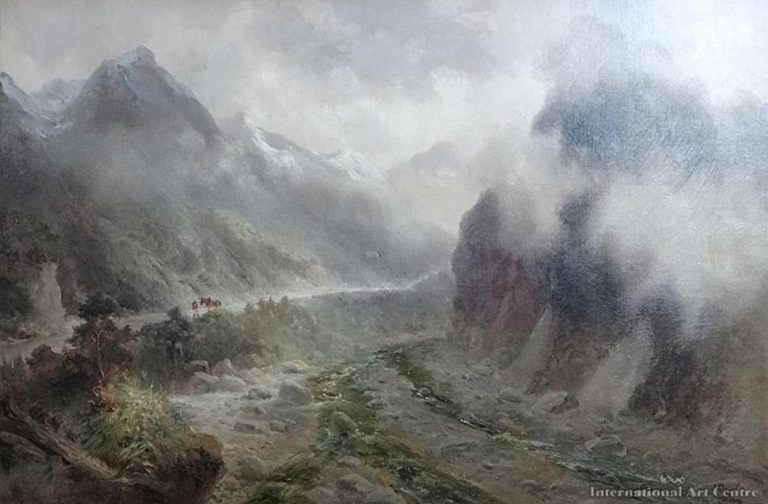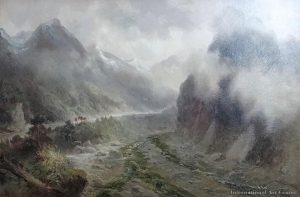 Refs.
AR 1891, p.24; SB, p.396 (noting Oct.1941 auction); NGV 1894, p.73 (IV.McArthur Gallery, no.11); NGV 1905, III.67 (giving size as 37½ x 59½") [£157/10] 
For details of other auctioned works by Peele, see Bénézit 10, pp.1073-74 and http://www.aasd.com.au/index.cfm/list-all-works/?concat=PeeleJames (including several other views of Otira Gorge; the canvas reproduced here was auctioned at the International Art Centre, Auckland, on 22 July 2015, selling for NZ $10,638 inc.buyer's premium)