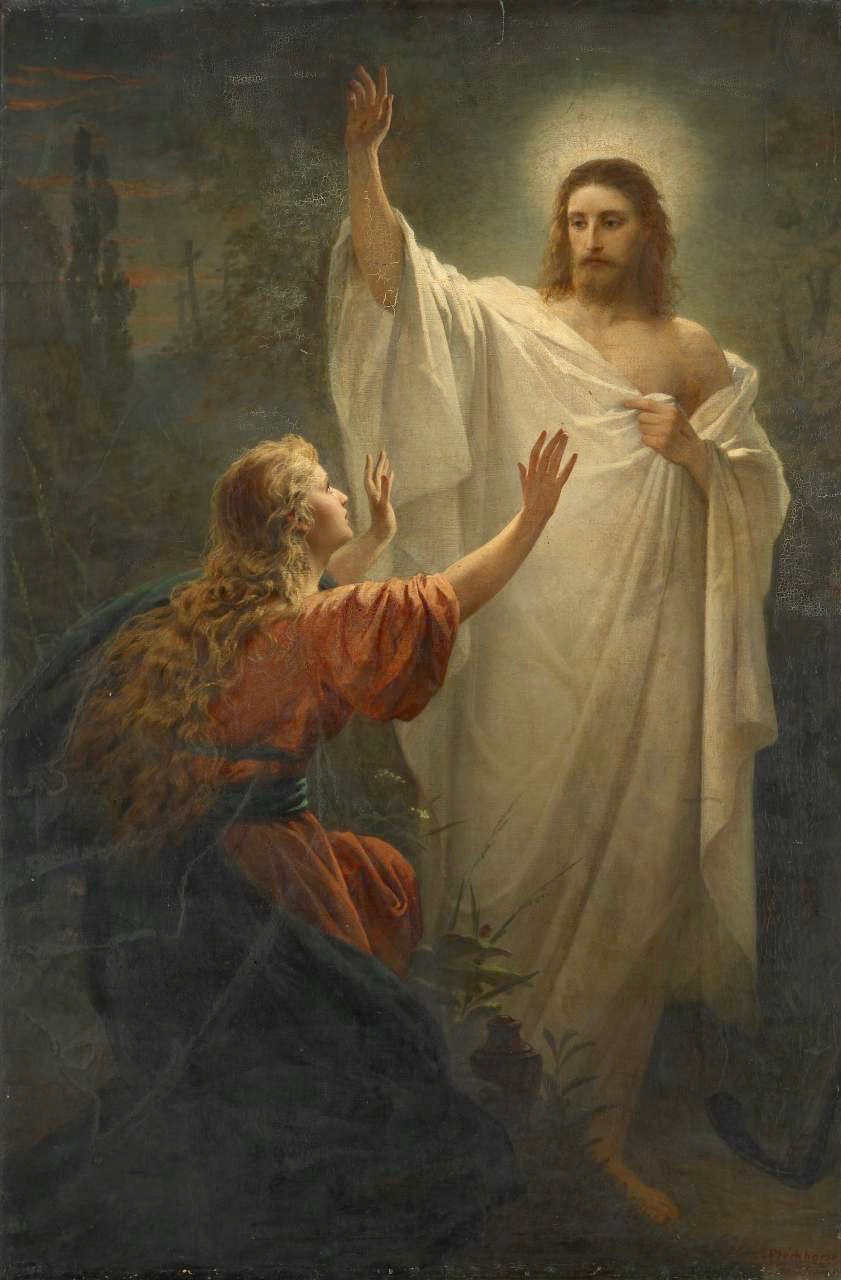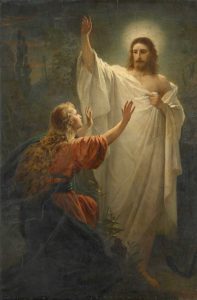 Plockhorst, Bernhard (1825-1907; German)
Easter Morning (Noli me tangere) 1880
Oil on canvas, 196.8 x 131.2 cm
Purchased, 1881
National Gallery of Victoria (p.307.9-1) 
This painting was purchased for the substantial sum of £400 in 1881, after being brought to Melbourne for the 1880 International Exhibition. Local press reports dwelt on the fact that the picture had been restored after being submerged in seawater, when the ship carrying it was wrecked between Adelaide and Melbourne.
Shortly after it was bought from Fletcher's (who had it restored), the work was praised by Eugene von Guérard, who wrote to Julius von Haast in April 1881: "This picture is undoubtedly one of the best in our collection."
According to Wikipedia, the late Nazarene painter (called "Professor Plockhurst" in NGV 1894/1905) "is only known to experts today, whereas his pictures are still very popular in the United States and their reproductions can be found in many American homes and churches."
The entry in NGV 1894 (presumably written by Bernard Hall) suggests drily that although most of the artist's output was religious, "his portraits are his best works." He portrayed Frans Liszt and the German Emperor William I, among others.
Refs.
AR 1881, p.52; NGV 1894, p.84 (IV.McArthur Gallery, no.44; ill.); NGV 1905, p.94 (III. McArthur Gallery, no.49; ill.) [£400] 
For the artist, see e.g. Bénézit 11, p.112 (listing the present work) and http://en.wikipedia.org/wiki/Bernhard_Plockhorst (quoted above; also including details about the 1880 Melbourne exhibition). For the comment by von Guérard, in a letter of 29 April 1881 (also mentioning the damage and restoration of the painting), see Darragh & Pullin Lieber Freund! (2018), p.47