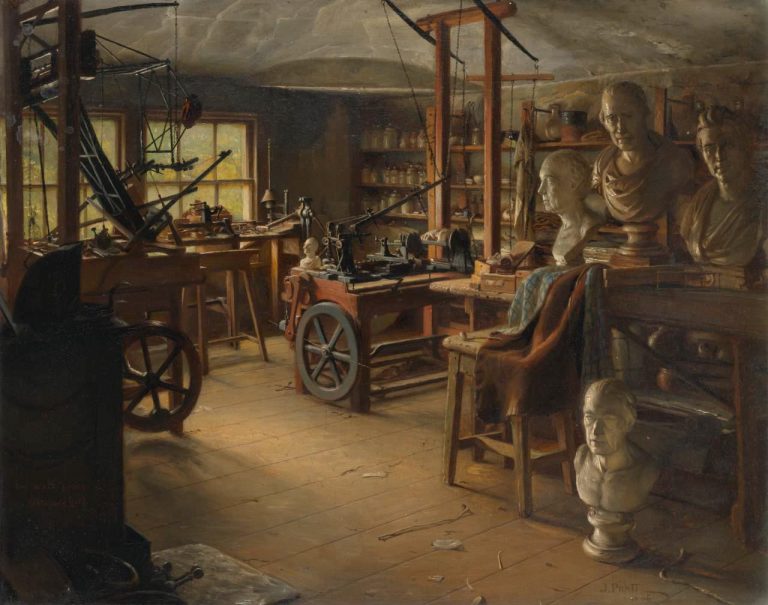 Pratt, Jonathan (1835-1911; English)
James Watt's Workshop 1886
Oil on canvas, 40.5 x 51.0 cm
Presented by Messrs George and Richard Tangye, 1889
National Gallery of Victoria (p.314.1-1)  
Pratt was a genre painter and portraitist who worked in Birmingham – also the domicile of the donors of this painting, according to NGV 1894. The NGV's online catalogue suggests that the work was probably painted for the donors.
Watt (1736-1819) is famous for perfecting the steam engine, fundamental to the Industrial Revolution. This painting depicts the workshop he set up at Heatherfield Hall, near Birmingham (transferred in 1928 to the Science Museum, London, which also holds another version of the present painting).
Refs.
AR 1888, p.38; NGV 1894, p.128 (V.Buvelot Gallery, south wall, no.18); not listed in NGV 1905 
For the artist, see Bénézit 11, p.340, and http://goldenagepaintings.blogspot.com.au/2008/08/jonathan-pratt.html. For Watt, see http://en.wikipedia.org/wiki/James_Watt (a detailed entry)