Preston, Walter (1777-after 1821; English), after Lycett, Joseph (c.1775-1828; English) (?)
Corroboree or Dance of the Natives of New South Wales (1817-18)
Etching and engraving
Presented by J.L.Evans 1878
Location unknown
The NGV's Annual Report for 1878 records the donation of this print, which appeared in An Historical Account of the Colony of New South Wales and its Dependant Settlements by James Wallis, published by Rudolph Ackermann, London, 1821. The impression donated in 1878 is apparently no longer in the collection, although other impressions were acquired for the NGV in 2010, including a hand-coloured print.
Preston, transported to Australia in 1811, worked in Australia as an engraver between 1812 and c.1821, and was under the command of Major James Wallis in Newcastle from c.1814. In the latter's Historical Account, Preston's prints were said to have been based on Wallis' own designs, but John McPhee argues that Lycett was probably responsible for this image.
[photo: impression in copy of Wallis's Historical Account… 1821, plate 6 (NGV, Joe White Bequest, 2010)]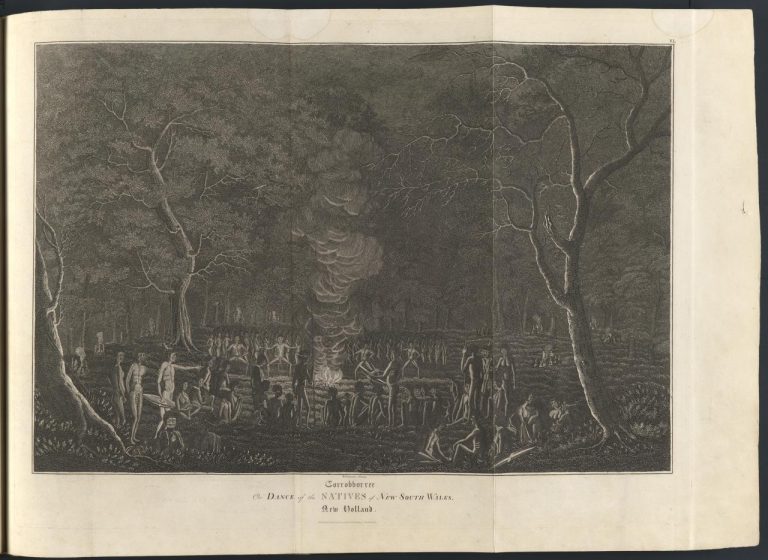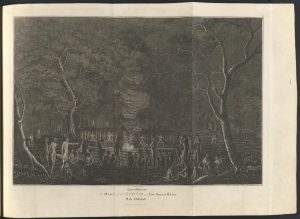 Refs.
AR 1878, p.51
For the impressions acquired for the NGV in 2010 (through the Joe White Bequest), refer the gallery's online catalogue
For Preston, see https://daao.org.au/bio/walter-preston/biography/ (by Richard Neville); and Bunbury This Wondrous Land (2011), pp.50ff. (with slightly divergent details), and esp.p.90: entry by John McPhee on the hand-coloured impression in the NGV, citing his own earlier discussion in McPhee (ed.), Joseph Lycett, Sydney, 2006
For Lycett, transported for forgery in 1814, see also Kerr Dictionary (1992), pp.432-44 (entry by Jeanette Hoorn & Elizabeth Imashev)