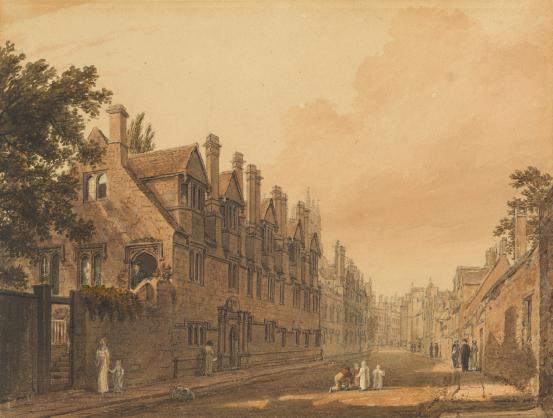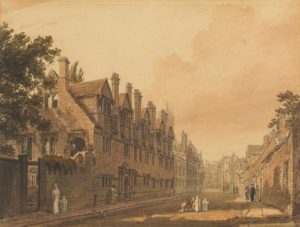 Pugin, Augustus Welby (1812-52; English)
Oxford
Watercolour and pencil, with touches of body colour, on paper, 20.2 x 26.6 cm (sheet)
Purchased, 1877 (advice of Archibald Michie)
National Gallery of Victoria (p.167.30-1)
This picturesque view, now unfortunately somewhat yellowed, reflects the taste of the artist, best known as a Gothic Revival architect and polemicist.
His Contrasts (1836) adversely compared utilitarian architecture of his own day with medieval Gothic. Numerous neo-Gothic churches were built to his designs, including several in Australia. He was also responsible for much of the interior design of Charles Barry's new Houses of Parliament in London (1840ff.), and designed Elizabeth Tower ("Big Ben") shortly before his death.
Refs.
Not listed in AR 1877; NGV 1894, p.66 (II.Stawell Gallery, no.121); NGV 1905, p.37 (II.Stawell Gallery, no.1, noting Michie's advice) [£5/10] 
For Pugin as a watercolourist, see Mallalieu (1976), p.212; see also Bénézit 11, p.460 and AKL 97 (2018), pp.137-39
For Pugin's architectural achievement and influence, see Rosemary Hill, God's Architect: Pugin and the Building of Romantic Britain, London: Allen Lane, 2007; Brian Andrews, Creating a Gothic Paradise: Pugin at the Antipodes, Hobart: Tasmanian Museum and Art Gallery, 2001 (exhibition catalogue); http://en.wikipedia.org/wiki/Augustus_Pugin (also mentioning Australian churches designed by Pugin) and http://en.wikipedia.org/wiki/Palace_of_Westminster, both with good details and further references