Ramsay, Hugh (1877-1906; Scottish/Australian)
Life study, full figure
Oil painting, size unknown
Presented by the artist, 1899
Unidentified; present location unknown
A precocious talent, Ramsay won several prizes at the NGV art school (where he studied from 1894-99), including first prize for painting from the nude in 1899, presumably for the present work.
He applied unsuccessfully for an NGV Travelling Scholarship in 1896 and 1899, but travelled to Paris in 1900, with financial assistance from an art union organized by John Longstaff and Professor Baldwin Spencer (1860-1929), noted anthopologist, honorary director of the Melbourne Museum from 1899 onwards, and a significant patron and collector of Australian art in the era.
However, Ramsay's success in Paris and London was curtailed by ill health, and he returned to Melbourne in 1902, dying from tuberculosis at the age of only 28.
He was supported enthusiastically during his brief career by various influential artists and patrons, including Baldwin Spencer (as noted above), George Lambert and Nellie Melba. Striking portraits like The Sisters (Art Gallery of New South Wales), shown at the Victorian Artists' Society in 1904, plainly support his reputation.
The NGV holds several paintings acquired later, including the oil study reproduced below, dated to c.1897 (when Ramsay was only 20).
[comparative photo: Untitled nude study (NGV, presented in 2003)]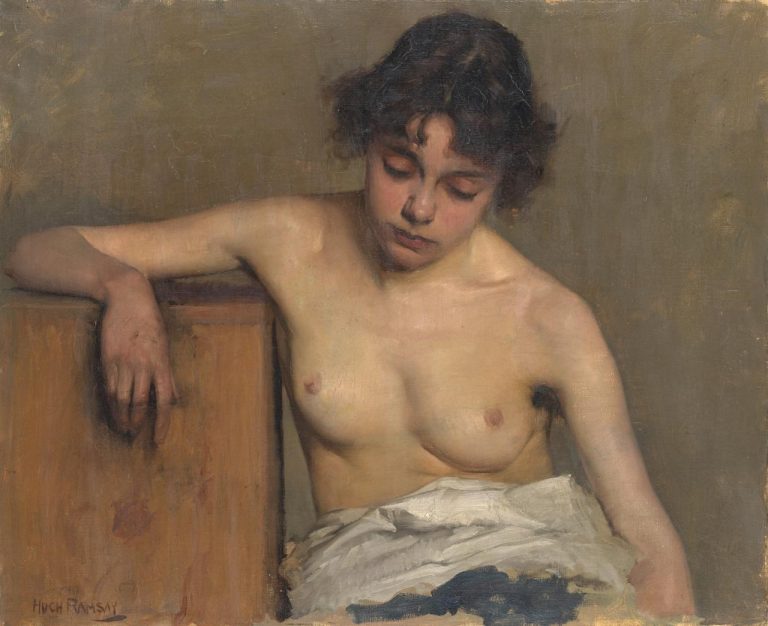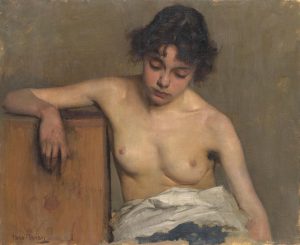 Refs.
AR 1899, p.28; not listed in NGV 1905 
For the artist, see e.g. https://www.daao.org.au/bio/hugh-ramsay/biography/ (by Kate Robertson, 2008/2011); Grishin, Australian Art (2013), pp.164-66; and summary entries in both Bénézit 11, p.654 and AKL 97 (2018), p.458
For other works by Ramsay in the NGV, see http://www.ngv.vic.gov.au/explore/collection/artist/488/; the study reproduced above (oil on canvas, 73.1 x 59.9 cm, was presented through the NGV Foundation by the Estate of Mr John Wicking). See also prize list in AR 1899, p.27
For The sisters (acquired for the AGNSW in 1921), see http://www.artgallery.nsw.gov.au/collection/works/849/
For Baldwin Spencer, see http://adb.anu.edu.au/biography/spencer-sir-walter-baldwin-8606 (by D.J.Mulvaney; first published in ADB vol.12, 1990; with further references)