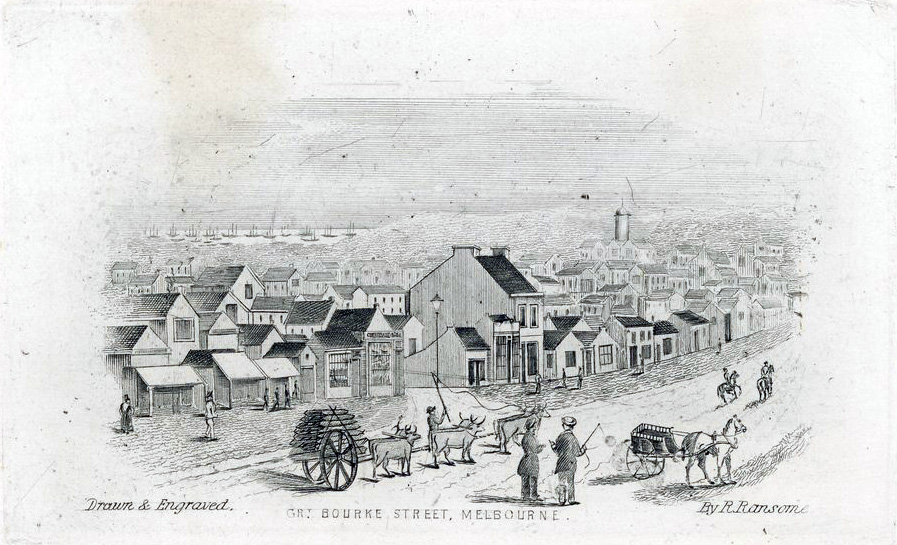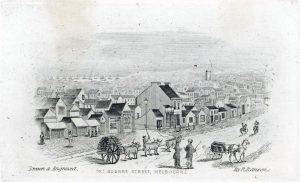 Ransome, Richard (active in Melbourne 1850s-60s)
Great Bourke Street, Melbourne (c.1860)
Engraving, 9 x 14 cm (plate mark), 13 x 19 cm (sheet)
Purchased, 1891
State Library of Victoria (H4312)
This view (evidently based on an older image) apparently shows Melbourne in about 1840. An inscription below the image identifies the central lamp-post as at the corner of Burke and Exhibition Streets (the old Eastern Market site).
Ransome engraved views of Sydney in the 1850s, and was documented working in Melbourne from 1857-64. The SLV catalogue indicates that he worked in Collingwood.
Refs.
NGV 1894, p.115 (V.Buvelot Gallery, 3rd bay, no.46); NGV 1905, p.134 (V.Buvelot Gallery, 3rd bay, no.55) [£2/2] 
The SLV catalogue notes the details indicated here, and also lists a second impression (H565). For the dating of the original view to c.1840, see http://beta.worldcat.org/archivegrid/collection/data/794891794
For Ransome, see also Kerr Dictionary (1992), p.655