Richmond, James Crowe (1822-98; New Zealander)
Lake Wanaka and Mount Aspiring, New Zealand
Watercolour, c.66 x 101.6 cm
Purchased, 1872
Unidentified; present location unknown
The work bought for Melbourne in 1872 no longer appears to be extant in either the NGV or SLV collections.
However, there is a very close correspondence in size and subject-matter with an impressive watercolour, signed and dated 1870, now in the Auckland Art Gallery (described as a gift of the Countrywomen's Association of New South Wales in 1974): see comparative photo below. Further investigation into the provenance of the Auckland work may clarify its relationship to the present example.
Richmond, who migrated from England in 1851, was an engineer and a member of the New Zealand parliament, besides being a keen amateur landscape painter; he was also a close friend of John Gully.
Other works by Richmond are held in the National Art Gallery in Wellington, and other New Zealand collections. An exhibition of some 50 of his watercolours, curated by the modern New Zealand artist Colin McCahon, was held in Auckland in 1957; several views of Lake Wanaka were included, but the present work was not among them.
[photo below: work now in Auckland Art Gallery, dated 1870]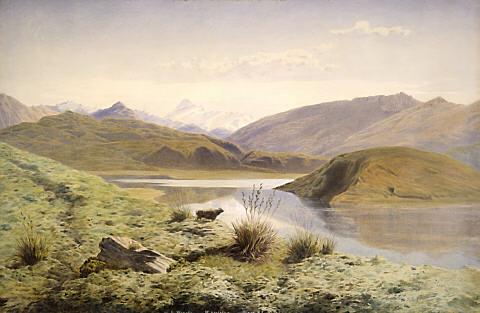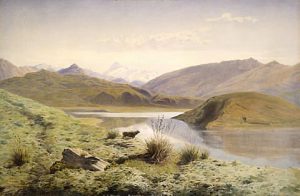 Refs.
AR 1872, p.21; NGV 1894, p.48 (II.Stawell Gallery, no.27: size given as 26 x 40 inches); NGV 1905, p.47 (II.Stawell Gallery, no.40) [£21] 
The work given to Auckland in 1974 is titled On Lake Wanaka, Mount Aspiring, Otago, New Zealand 1870 (watercolour, 66.0 x 101.9 cm): see http://www.aucklandartgallery.com/the-collection/browse-artwork/4179/on-lake-wanaka,-mount-aspiring,-otago,-new-zealand (with a good reproduction). For Richmond, see http://www.teara.govt.nz/en/biographies/1r10/richmond-james-crowe (biography by Frances Porter & W.H. Oliver, first published in the Dictionary of New Zealand Biography, vol.1, 1990; with further references); James Crowe Richmond, Auckland City Art Gallery, Sept.1957 (exh.cat., curator Colin McCahon, intro.by P.A.Tomory): available online as http://www.aucklandartgallery.com/media/166401/cat14.pdf; and Bénézit 11, p.1016 (listing the present work). 
See also Rebecca Rice, "Creating culture in a colonial context: fine art at the 1865 New Zealand Exhibition" (2013): http://www.anti-po-des-designjournal.org.nz/wp-content/pdf/papers/vol2/Creating%20Culture%20in%20a%20Colonial%20Context_Rice.pdf. In the year the present work was purchased for Melbourne, engravings of several of Richmond's other New Zealand views were published in the Illustrated Australian news for home readers (see SLV catalogue for details)