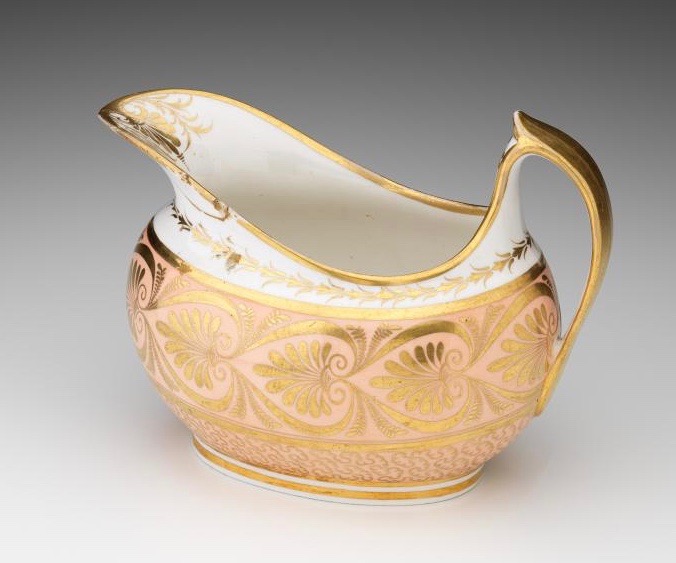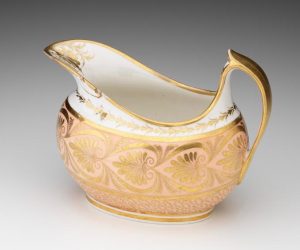 Pre-Felton acquisitions included:
Tri-tube. Purchased 1881. Loc? 
Vase ("Flight of the Swans"). Purchased 1889. Loc?
Vase (fish motif). Purchased 1887. NGV 278-D1M
Figurine. Purchased 1889. Loc? 
Jug, Cup and Saucer (early 19th century?). Gift Mr S.Solomons 1891. NGV 282-D1M, 283-D1M &  284-D1M (see photo)
[photo: Jug donated in 1891 (NGV 284-D1M)]
Porcelain was first manufactured at Worcester in 1751. In 1783 Joseph Flight purchased the factory for his sons John and Joseph, who improved and modernized the business, and in 1789 George III gave them his Royal Warrant.
Later, Martin Barr and his sons joined Joseph Flight in partnership (1813-40). The set donated to the Melbourne collection in 1891 is identified in the NGV's Annual Report as dating from that period.
As noted, several of the other pieces acquired for the pre-Felton collection are no longer extant, and appear to have been de-accessioned; there may have been others as well. Nevertheless, the NGV now holds a very large collection of over 800 pieces of Worcester porcelain.
Refs.
AR 1881, p.54, noting a "select series of examples of Ivory and Jewelled Porcelain" as purchased from the Royal Worcester Porcelain Co.at the Melbourne International Exhibition. See also AR 1889, p.41 (purchase of the vase listed above); and AR 1891, p.26 (under donations of ceramics, as noted above) 
For the three pieces donated in 1891, refer NGV catalogue (under the donor); all are reproduced. For Flight, Barr & Barr, see e.g. https://www.museumofroyalworcester.org/learning/research/factories/flight-barr-partnerships/ (accessed 7 April 2020)