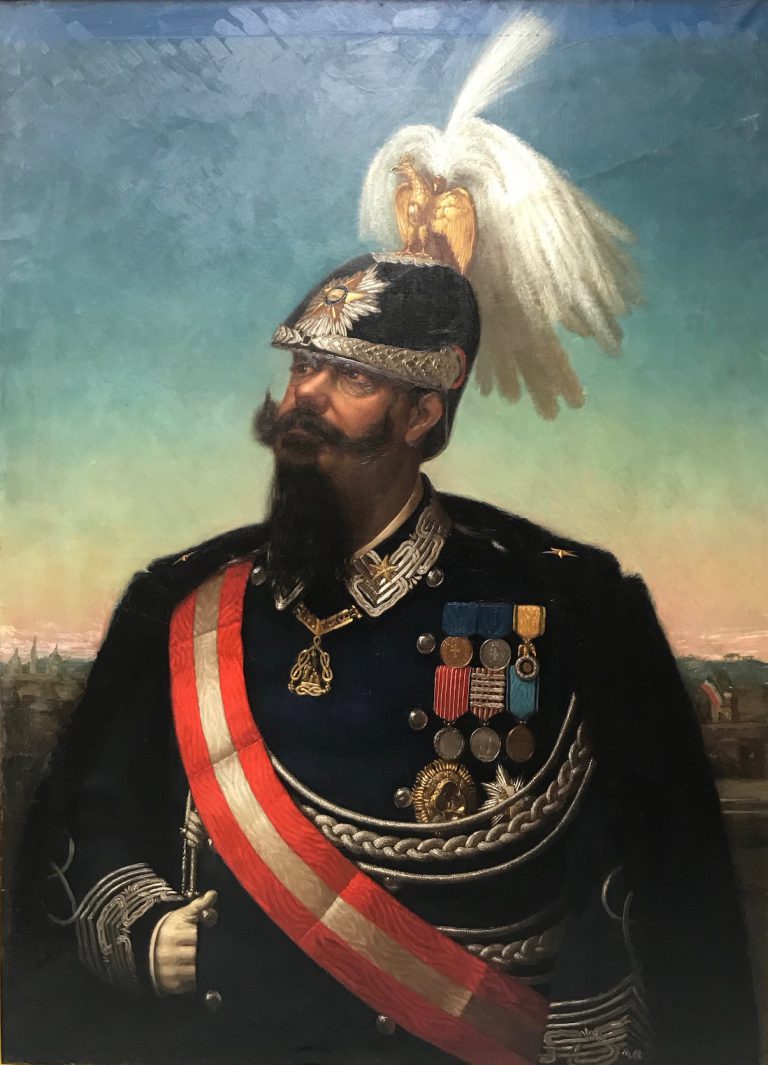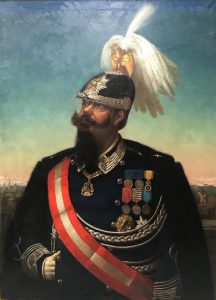 Sabbione, Giuseppe (active 1869-99; Italian)
Victor Emmanuel II (c.1875)
Oil on canvas, 135.5 x 98.5 cm
Presented by the king, 1877
State Library of Victoria (H2012.107)
Victor Emmanuel II (1820-78), King of Sardinia from 1849, fought for the risorgimento during the 1850s, and was crowned king of the new unified Italy in 1861. He is buried in the Pantheon. The huge Victor Emmanuel Monument, known formally as the Altare della Patria (and, popularly, as "the wedding cake") was erected later in the heart of ancient Rome (1885-1925).
Sabbione, who worked in Turin, painted portraits of various members of the House of Savoy. He signed the present work at the lower left.
There appears to have been some alteration/repainting in the sky at the top of the canvas.
Refs. 
AR 1877, p.76; NGV 1894, p.121 (V.Buvelot Gallery, 6th bay, no.8); not listed in NGV 1905 
For this work, see SLV catalogue (details as above; not reproduced); ID photo shown here taken by the author (July 2019)
For Sabbione, see e.g. http://www.istitutomatteucci.it/it/dizionario-degli-artisti/sabbione-giuseppe; he is not listed in either Bénézit or AKL 
For Victor Emmanuel II, see e.g. https://en.wikipedia.org/wiki/Victor_Emmanuel_II_of_Italy; and for the Victor Emmanuel Monument, see e.g. https://en.wikipedia.org/wiki/Altare_della_Patria, and http://www.theworldisabook.com/6385/romes-wedding-cake-il-vittoriano/ (a more sympathetic account of its architecture than usual)