Sadeler, Aegidius (1570-1629; Flemish), after Heintz, Joseph, The Elder (1564-1609; Swiss)
Diana surprised in the Bath by Actaeon
Engraving, c.36.4 x 50.8 cm
Purchased, 1899 (advice of Bernard Hall)
Present location unknown

This print typifies the late Mannerist style favoured at the Prague court of Emperor Rudolf II around 1600. Sadeler is documented as active at Rudolf's court from 1597, producing engravings after Arcimboldo and other artists. Several other prints by Sadeler, acquired after 1905, are in the NGV collection.
Heintz, who worked in Rome, Prague and elsewhere, was known particularly for his erotic compositions. His painting of Diana and Actaeon (1590) is in the Kunsthistorisches Museum, Vienna.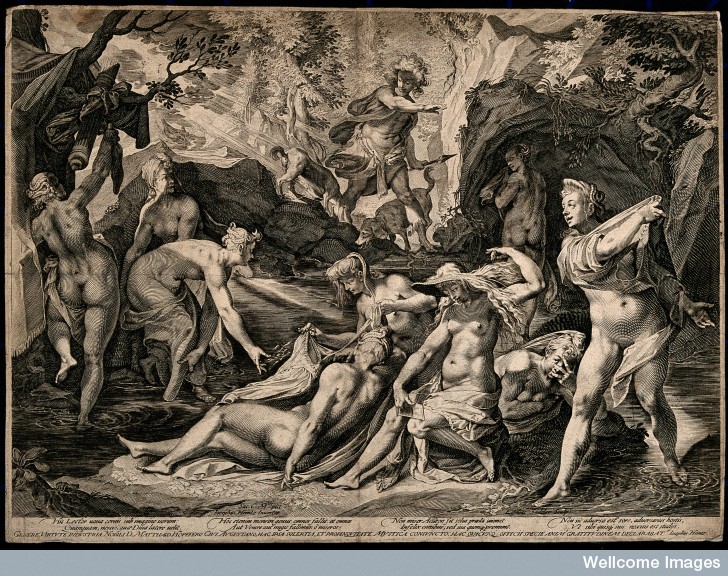 [comparative photo: Wellcome Library impression]
Refs.
NGV 1905, p.121 (V.Buvelot Gallery, 2nd bay, no.19; noting Hall's advice) [£0/18] 
For the impression reproduced here, see http://wellcomeimages.org/indexplus/result.html?*sform=wellcome-images&_IXACTION_=query&%24%3Dtoday=&_IXFIRST_=1&%3Did_ref=V0048184&_IXSPFX_=templates/t&_IXFPFX_=templates/t&_IXMAXHITS_=1. For Sadeler (also known as Egidius or Gilles), see Bénézit 12, pp.228-29; AKL 100 (2018), pp.308-9; and http://en.wikipedia.org/wiki/Aegidius_Sadeler; and for the other Sadeler prints in the NGV, see http://www.ngv.vic.gov.au/explore/collection/artist/3673/
For Heintz, see Bénézit 6, p.1339; AKL 71 (2011), 242-46; andhttp://en.wikipedia.org/wiki/Joseph_Heintz_the_Elder; and for a reproduction of his Diana and Actaeon in Vienna, see http://www.artrenewal.org/pages/artwork.php?artworkid=23502. For a different engraving of the same subject by Sadeler (Hollstein 104), after the Flemish artist Paolo Fiammingo, also known as Paulus Franck (1540-96), see http://www.metmuseum.org/collection/the-collection-online/search/388944; and http://www.spaightwoodgalleries.com/Pages/Aegidius_Sadeler.html