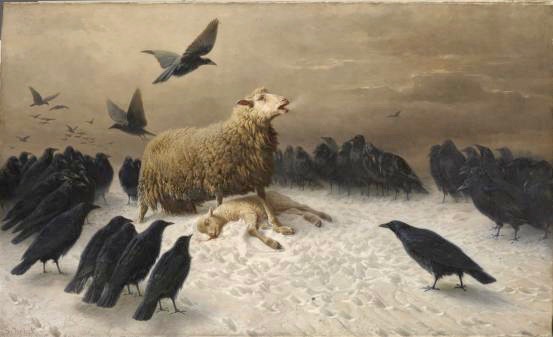 Schenck, August Friedrich Albrecht (1828-1901; Danish)
Anguish (c.1878)
Oil on canvas, 151.0 x 251.2 cm
Purchased, 1879
National Gallery of Victoria (p.307.6-1)
This large painting was first shown in the 1878 Salon in Paris, where the artist spent most of his career.
Derided by many 20th-century commentators as irredeemably sentimental – Murray (2011) quotes Robert Hughes' phrase "soggy with moral uplift" – this work has been re-assessed in recent years, as concepts such as emotion and empathy are given increased attention by historians and critics alike.
For Irena Zdanowicz (2007), for instance, it exemplifies the long tradition of drawing "parallels between human and animal behaviour and appearance." The scale of the picture also reinforces the idea that the ewe's protection of her dead lamb from the encircling crows has wider human implications, to do with love, grief, and, above all, compassion – as Alain de Botton and John Armstrong emphasized recently.
In 2013, the work was the centrepiece of Patrick Pound's installation "The Gallery of Air" (shown in the Melbourne Now exhibition at the NGV), drawing particular attention to the breath issuing from the mother's mouth as she cries out in despair.
Refs.
AR 1879, p.55 (noting the date of receipt as 16 Feb.1879); NGV 1894, p.16 (I.La Trobe Gallery, no.16; ill.); NGV 1905, p.12 (I.La Trobe Gallery, no.19; ill.) [£1200]
For details and discussion (usually dating the acquisition to 1880), see Gott 19C (2003), pp.60-61 (entry by Laurie Benson); Irena Zdanowicz (ed.), Masters of Emotion: Exploring the Emotions from the Old Masters to the Present, Mornington Peninsula Regional Gallery, 2007, cat.72, pl.19, and p.26 (quoted); and De Bottom & Armstrong, Art as Therapy: Works from the collections of the NGV, 2014, p.46: "this image spreads directly to the heart"
See also Galbally NGV (1987), p.19; Phip Murray The NGV Story (2011), p.16, including the quote from Robert Hughes, The Art of Australia, rev.edn., Penguin, 1970, p.48; and Melbourne Now: Exhibition Guide, NGV, 2013, pp.280-281 (Patrick Pound)