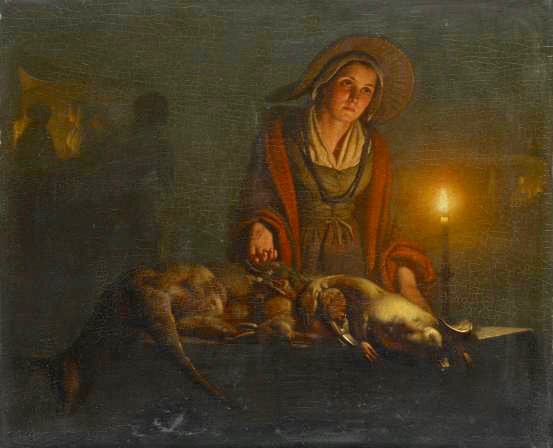 Schendel, Petrus van (1806-70; Dutch)
The Poultry Vendor 1863
Oil on wood panel, 36.3 x 45.3 cm
Purchased by the Commissioners for Fine Arts for Victoria, 1864 (advice of Sir Charles Eastlake)
National Gallery of Victoria (p.301.3-1)
Although this work was painted the year before it was purchased for Melbourne, its quasi-religious treatment of the genre subject and Caravaggesque lighting hark back to the 17th century.
The catalogue entry in NGV 1894 notes that Schendel (called "Pierre" in both NGV 1894 and 1905) was known particularly for candle-lit images like this.
Refs.
NGV 1867, p.69; NGV 1871, p.41 (cited by Galbally 1992); NGV 1894, p.26 (I.La Trobe Gallery, no.32); NGV 1905, p.2 (I.La Trobe Gallery, no.1; ill.) [£84] 
See also Galbally First Collections (1992), cat.10, p.47, dating the work to 1864. For the artist, see Bénézit 12, pp.583-84 and AKL 101 (2018), pp.439-40 (both listing the present painting)