Sheldon, Frederic Stanley (active 1885-1916; English)
George Watson on Cavalier (c.1892)
Bronze, size unknown
Purchased, 1894
Unidentified; present location unknown (lost?)
This statuette, shown at the Victorian Artists' Society in May 1892, is listed in the 1894 NGV catalogue, but not in 1905; a note in the NGV's stock-book indicates "Broken 2.2.99." The Dictionary of Australian Artists Online lists the work as still in the NGV, but this does not appear to be the case.
Sheldon, who studied with Rosa Bonheur, and apparently specialized in equestrian subjects, lived in Victoria during the late 1880s and early 1890s.
Irish-born George John Watson (1829-1906) arrived in Melbourne in the early 1850s, and made his name as a jockey and horse trainer. In 1853, he founded the Melbourne Hunt Club – which still exists – and was Master of the Hunt for over 40 years. Initially, kangaroo and emu were hunted, later replaced by deer and other imported species.
Watson also owned an interest in Cobb & Co., which ran coach routes to Ballarat, Bendigo etc., and leased Kirk's Horse Bazaar in Bourke Street. He also played an important role in the formation of the Melbourne Cup in 1861, and was in charge of important races at Flemington through to the 1890s, becoming known as the "Prince of Starters."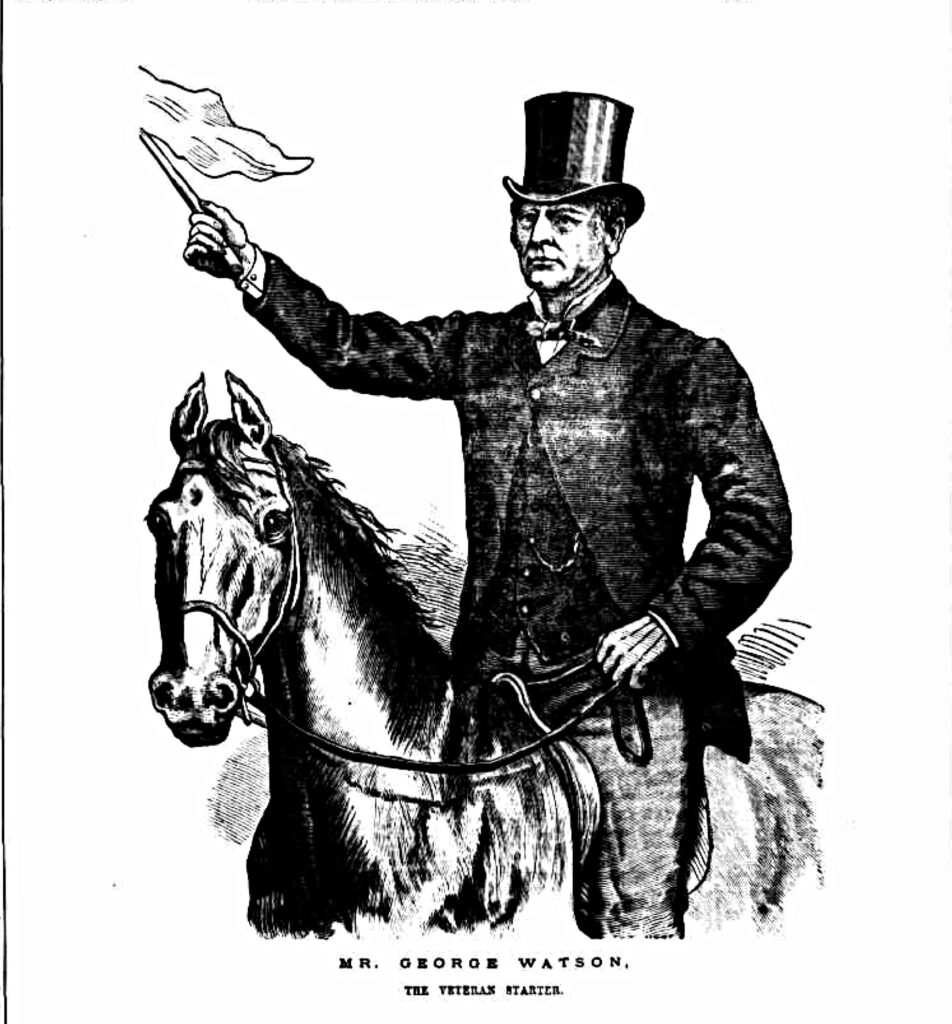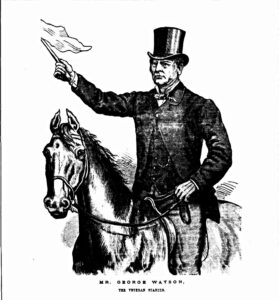 Watson and his horse Cavalier were both well-known in upper-crust later 19th-century Melbourne. An 1893 print of a Hunt Club meeting shows Watson on Cavalier, with then Victorian Governor, the Earl of Hopetoun, and his wife, also on horseback. Hopetoun, subsequently Australia's first Governor-General (1901-2), was said to be an insatiable hunter.
[photo: illustration of Watson from The Sportsman, Melbourne, 28 May 1884]
Refs.
AR 1894; SB, p.58 (Bronzes); NGV 1894, p.131 (VI.Rotunda, no.51); not listed in NGV 1905
SB notes that the work was cast in bronze using the "cire perdu" process, and bought from the artist in June 1894 for £50; also noting damage in Feb.1899 (as quoted)
This work is listed as still in the NGV in https://www.daao.org.au/bio/frederick-stanley-sheldon/biography/ (by S.Clifford-Smith, 2008, updated 2011); not found in current NGV or SLV catalogues. Sheldon is not listed in Bénézit or AKL
For Watson, see http://adb.anu.edu.au/biography/watson-george-john-4810 (by Jill Eastwood; ADB vol.6, 1976); http://www.melbournehunt.org.au/about-us-2; https://blog.qm.qld.gov.au/2017/11/02/george-watson-and-the-melbourne-cup/ (Queensland Museum Network blog by Jeff Powell, 2014, including the reproduction shown above, courtesy of the NLA); and John Butler Cooper, The History of St Kilda, vol.1 (1840-1930), Melbourne, 1931, esp.pp.259-60 including remarks on Watson's St Kilda house, "Fenagh," brought to Australia from England in sections). The 1893 Hunt Club print mentioned was previously accessible via http://www.shop.nsw.gov.au/proddetails.jsp?publication=7903 (but when checked in July 2020 this link did not seem to be operational)