Singleton, Henry (1766-1839; English)
Edmund Kean
Oil on panel, c.22.86 x 12.7 cm
Presented by Henry Tolman Dwight, 1869
Unidentified, present location unknown
The apparent loss or deaccession of this small portrait, listed in the Melbourne gallery's 1894 catalogue (but not in 1905), seems particularly unfortunate, on several counts.
While various portraits of the famous Shakespearean actor Edmund Kean (1789-1833) by others are extant (e.g. the 1814 canvas by John James Halls, showing Kean in the role of Richard III: reproduced below), there appears to be no record of the present work.
Singleton, a portrait-painter and miniaturist, also had ambitions to be a major history painter; his painting Imogen found by Arvigarus, Belarius and Guiderus in the forest (c.1790-95), depicting a scene from Shakespeare's Cymbeline, was acquired for the NGV in 2002.
The donor (1823-71), who migrated to Melbourne in 1855, was a bookseller and publisher, whose list of publications included Peter Pindar's Australian Celebrities, or Personal Portraits of 100 Theatrical Stars of Various Magnitudes (1865), and The Hamlet Controversy. Was Hamlet Mad? (1867).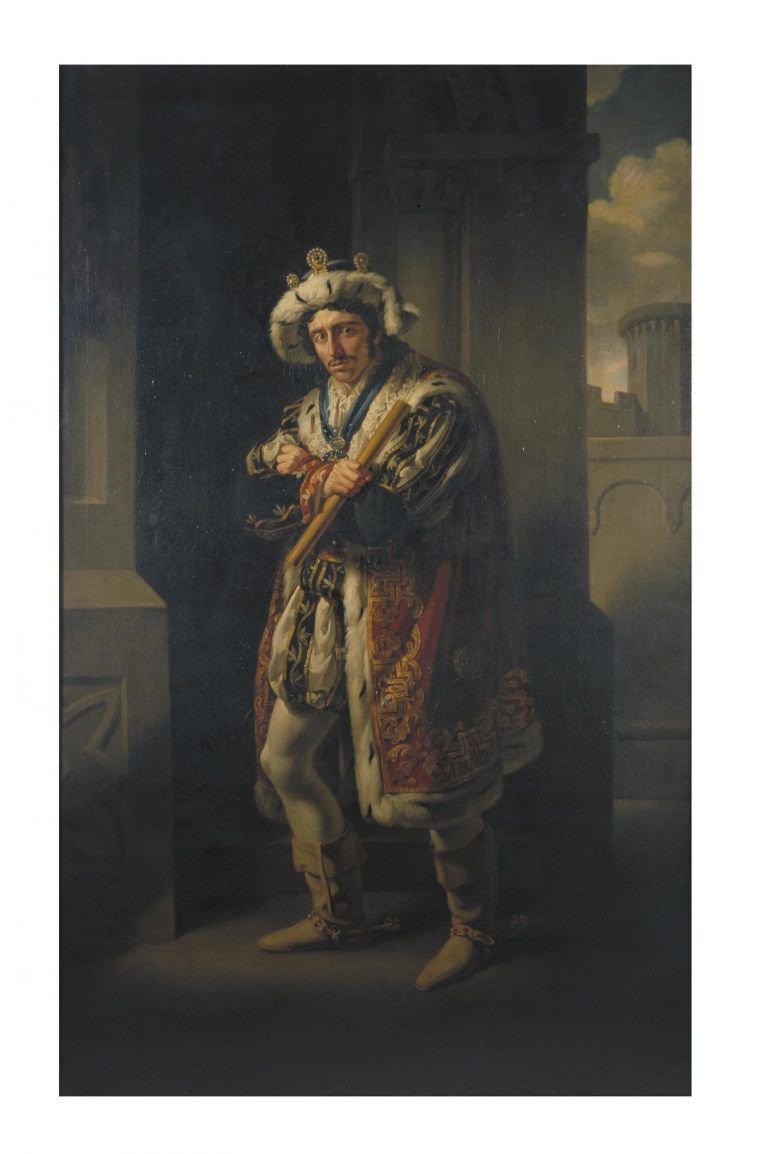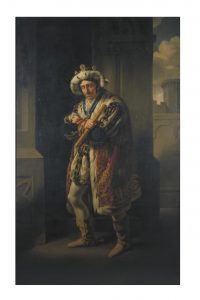 [comparative photo: John James Halls portrait of Kean as Richard III (V&A)]
Refs.
AR 1870 (long version), p.188, Schedule XLIII (as presented 1869); NGV 1894, p.126 (V.Buvelot Gallery, 8thbay, no.18; as measuring 9 x 5 inches); not listed in NGV 1905 
For Singleton, see Bénézit 12, p.1271 and http://en.wikipedia.org/wiki/Henry_Singleton_%28painter%29; and for the work acquired for the NGV in 2002, http://www.ngv.vic.gov.au/explore/collection/work/73664/. For Kean, see http://en.wikipedia.org/wiki/Edmund_Kean; and for the painting reproduced above, see https://collections.vam.ac.uk/item/O84968/edmund-kean-as-richard-in-painting-halls-john-james/. For other portraits of Kean, see http://www.npg.org.uk/collections/search/person.php?LinkID=mp02477&wPage=0 and http://images.library.illinois.edu/projects/actors/index.asp (refer index)
For Dwight, see http://adb.anu.edu.au/biography/dwight-henry-tolman-3460 (biography by Ian McLaren, published in ADB vol.4, 1972, including details of the theatrical books noted), and Ian MacLaren, Henry Tolman Dwight: bookseller and publisher, Parkville: University of Melbourne Library, 1989