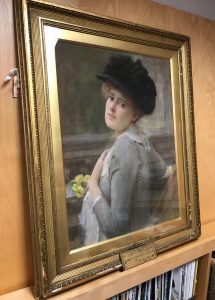 Solomon, Solomon J. (1860-1927; English)
'The Leaves of Memory seemed to make a Mournful Rustling' 1890
Pastel on paper, c.69 x 51 cm (sight)
Purchased, 1892 (advice of Bernard Hall)
National Gallery of Victoria (p.432.2-1)
This drawing, an impressive work in fine condition, is inscribed at lower right with the artist's monogram in yellow pastel: SS 90. The NGV's 1892 Annual Report and the gallery's 1894 and 1905 catalogues all identify it as a pastel drawing. NGV 1905  adds that it was selected from the Anglo-Australian exhibition in Melbourne. The work is currently behind glass, making photography difficult; it is also reproduced in black and white in NGV 1894.
The title comes from Henry Wadsworth Longfellow's poem "The Fire of Drift-Wood" (from The Seaside and the Fireside, 1850).
Solomon trained at the Ecole des Beaux-Arts, and was influenced by Alma-Tadema. A founding member of the New English Art Club (1886), he later became an associate (1896) and then full member (1906) of the Royal Academy – a rarity for a Jewish artist in that era. His epic canvas Ajax and Cassandra, bought for the Ballarat Art Gallery in 1888, remains a popular work in that museum.
Refs.
AR 1892, p.23; NGV 1894, p.64 (II.Stawell Gallery, no.118; size given as 30 x 22 inches; ill.); NGV 1905, p.38 (II.Stawell Gallery, no.8; ill.) [£60] 
http://www.ngv.vic.gov.au/col/work/27712 (not reproduced; incorrectly listed as a watercolour). The author's ID photo shown here (Oct.2019) was taken at an angle to avoid reflections 
For the artist, see http://en.wikipedia.org/wiki/Solomon_Joseph_Solomon (with further references); and for Ajax & Cassandra see Victorian Olympians (1975), cat.37 and http://www.artgalleryofballarat.com.au/exhibitions-and-events/collection/international-collection/solomon,-solomon-j.aspx. For the Longfellow poem, see e.g. http://www.hwlongfellow.org/poems_poem.php?pid=50