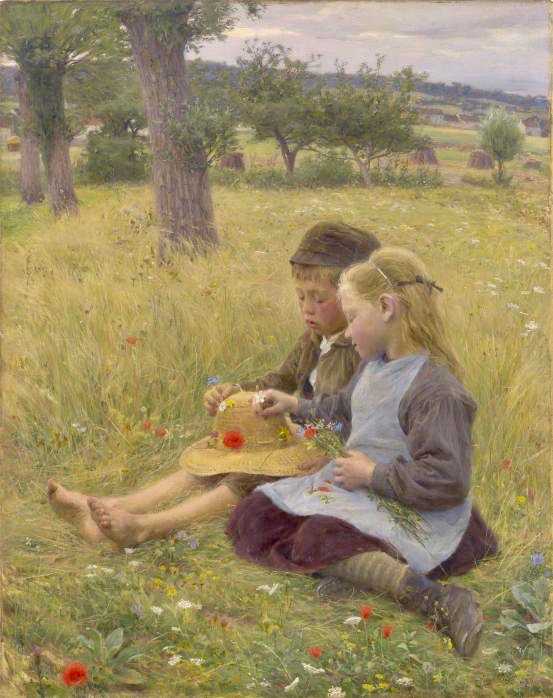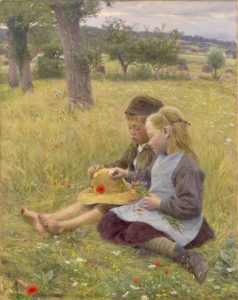 Souza Pinto, José Júlio de (1856-1939; Portuguese)
In the Fields 1892
Oil on canvas, 93.0 x 73.9 cm
Purchased, 1893 (advice of John Longstaff)
National Gallery of Victoria (p.399.6-1)
This image of childhood was one of several selected from the Paris Salon of 1893 by Longstaff.
Souza Pinto lived and worked for most of his life in northern France. A student of Alexandre Cabanel (1823-89), whose academic style he emulated initially, he later came under the influence of the realist master Jules Bastien-Lepage (1848-84). Souza Pinto's 1898 canvas The Potato Harvest (Musée d'Orsay, Paris) was apparently inspired by Bastien-Lepage's 1878 painting October (shown at the Paris Salon in 1879, and later acquired for the NGV, through the Felton Bequest, in 1928).
Refs.
NGV 1894, p.40 (I.La Trobe Gallery, no.53); NGV 1905, p.35 (I.La Trobe Gallery, no.64; ill.) [£160] 
See also Gott, 19C (2003), p.99 (entry by Gerard Vaughan). For Souza Pinto, see Bénézit 13, pp.87-88; and for The Potato Harvest, see http://www.musee-orsay.fr/en/collections/works-in-focus/painting/commentaire_id/the-potato-harvest-16404.html?tx_commentaire_pi1%5BpidLi%5D=509&tx_commentaire_pi1%5Bfrom%5D=841&cHash=a705c887e3
For Bastien-Lepage's October, see http://www.ngv.vic.gov.au/col/work/3768 and Gott 19C (2003), pp.96-97