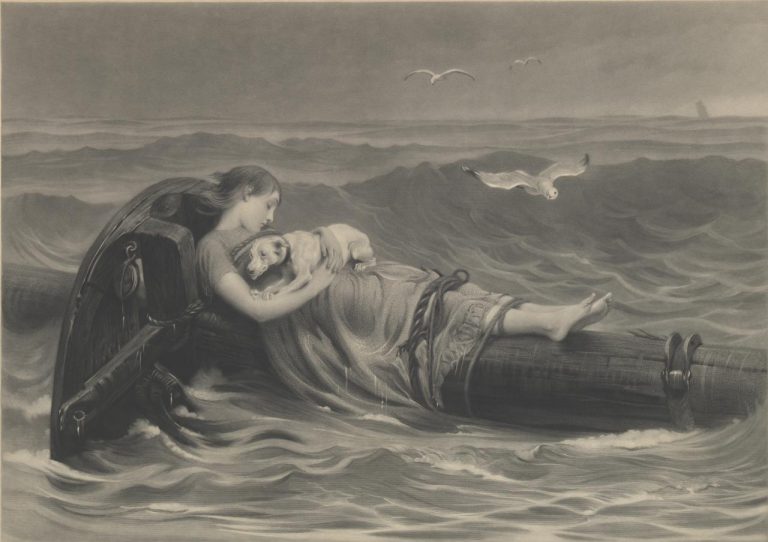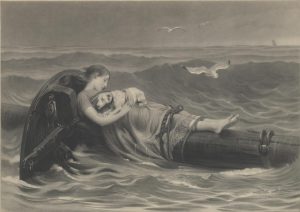 Stacpoole, Frederick (1813-1907; English), after Rivière, Briton (1840-1920; English)
'All that was left of the 'Homeward Bound' 
Engraving, 47.4 x 67.3 cm (image)
Donated by William Agnew, 1876
National Gallery of Victoria (p.182.6-1)
This was one of four engravings after Rivière donated together in 1876. All four are signed by both the painter and the print-makers involved, and all four exemplified Rivière's skills at depicting animals (refer artist entry for further details).
This particular print is quite yellowed, possibly suggesting prolonged exposure to light (and, by extension, its early popularity in the Melbourne gallery). It shows the aftermath of a shipwreck, a small dog cradled by a young woman (alive or dead?) lashed to a mast, with seagulls circling nearby, and a sail on the horizon. Rivière apparently submitted the original work to the Royal Academy in 1873.
Refs.
AR 1876, p.43; NGV 1894, p.105 (V.Buvelot Gallery, 2nd bay, no.6) 
The NGV catalogue lists this work as by an unknown engraver after Rivière (with reproduction). For a watercolour version by Rivière, see http://www.sothebys.com/en/auctions/ecatalogue/2005/19th-century-british-and-continental-pictures-w05703/lot.28.html