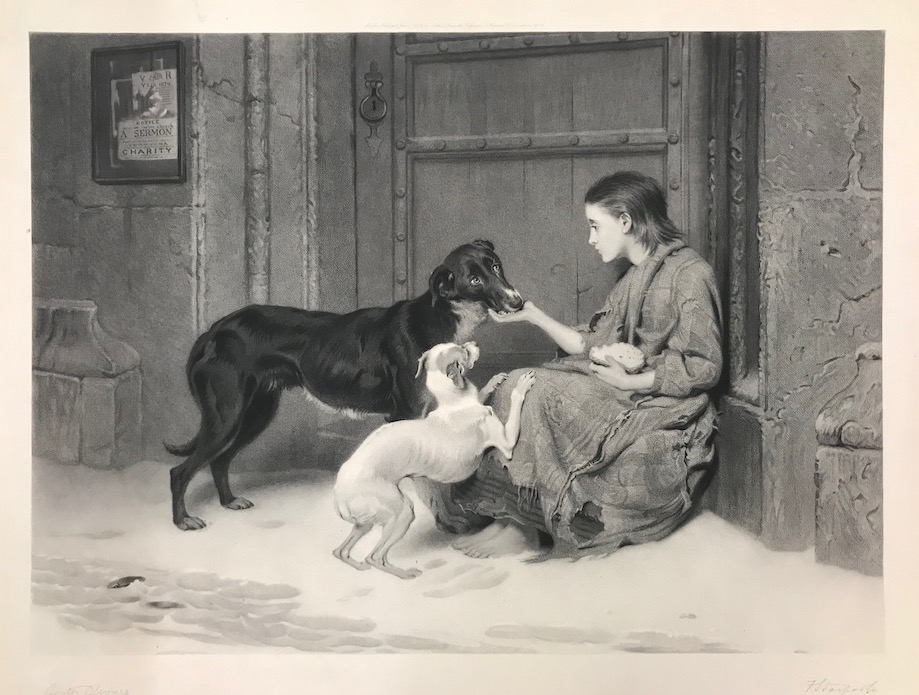 Stacpoole, Frederick (1813-1907; English), after Rivière, Briton (1840-1920; English)
Charity
Engraving, 45.3 x 62.3 cm (image)
Donated by William Agnew, 1876
National Gallery of Victoria (p.182.5-1)
One of the prints after Rivière donated in 1876, all signed by both painter and print-maker. This particular impression is stamped at lower left ("Printseller's Association: XDC").
A version of the original painting on which this print was based, dated 1870, was sold recently. An exemplary Victorian image, it shows a young woman, barefoot in the snow, sharing her meagre meal with two dogs.
Refs.
AR 1876, p.43; NGV 1894, p.106 (V.Buvelot Gallery, 2nd bay, no.14)
The NGV catalogue lists this work as by an unknown engraver (not reproduced); ID photo shown here taken by author (Aug.2019) 
For the 1870 painting, see https://www.mutualart.com/Artwork/Charity/230DF9ADACCA9A87 (documenting a sale in March 2017)