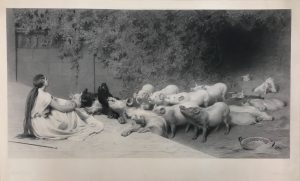 Stacpoole, Frederick (1813-1907; English), after Rivière, Briton (1840-1920; English)
Circe and the Friends of Ulysses
Engraving, 41.2 x 78 cm (image)
Donated by William Agnew, 1876
National Gallery of Victoria (p.182.7-1)
Like the other engravings after Rivière donated in 1876, this impression is signed by both painter and print-maker.
Rivière's original painting of Circe presiding over an assembly of swine (Ulysses/Odysseus' crew transformed through her magic) earned him high praise at the Royal Academy in 1871. The canvas was sold recently after resurfacing in a deceased estate.
Refs.
AR 1876, p.43; NGV 1894, p.105 (V.Buvelot Gallery, 2nd bay, no.1)
The NGV lists this print as by an unknown engraver (not reproduced); ID photo shown here taken by author (Aug.2019)
For the original painting, see "Circe rediscovered after a century" (https://blog.tooveys.com/2018/08/circe-rediscovered-after-a-century/)