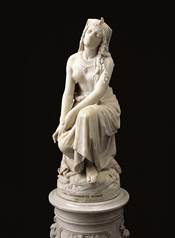 Summers, Charles Francis (1857-1945; Australian), and Lombardi, Giovanni Battista (1823-88; Italian)
The Shunammite Woman
Marble, size unknown
Purchased, 1884; presented to the Bendigo Art Gallery, 1943
Bendigo Art Gallery (acc.no.1943.10)
This work is described in NGV 1894 and 1905 as "modelled by G.Lombardi, and executed by C.F.Summers." The latter is documented as working with, and producing replicas of works by, both Lombardi brothers; but on this occasion G.B.Lombardi is presumably referred to.
The Old Testament story of Elisha and the Shunammite woman appears in 2 Kings 4: 8-37.
A similar statue of Ruth, dated 1893, signed by C.F. Summers and credited to him and his studio, sold in New York in 2013 for US $25,000.
Refs.
AR 1884, p.35; SB, p.67 (as by Lombardi); NGV 1894, p.133 (VI.Rotunda, no.45); NGV 1905, p.53 (II.Stawell Gallery, no.67) [bought for £1000 with * Lombardi, Giovita: Fowls – Cocks Fighting {1884} Loc? [SC] etc.] The SB entry includes an added note on the presentation to Bendigo, 15/3/43
Many thanks to Mark Orlandi for confirming that the present work is still in the Bendigo collection and sending the ID photograph shown here (July 2018). For a stereograph by Boake, see SLV catalogue (acc.no.H82.261/16), with a reproduction
For the Ruth auctioned by Christie's, New York, 26 Nov.2013, lot 289, see http://www.christies.com/lotfinder/sculptures-statues-figures/an-english-white-marble-figure-of-ruth-5741558-details.aspx, describing the figure as 95 cm high, signed and dated C.F.Summers/Rome/ 1893, and previously the "property of a lady"; Christie's' notes exhibit confusion between C.F.Summers and his father